How to Not Lose Thanksgiving in the Christmas Prep
Jessica Van Roekel

Crosswalk.com Contributing Writer

2019

10 Oct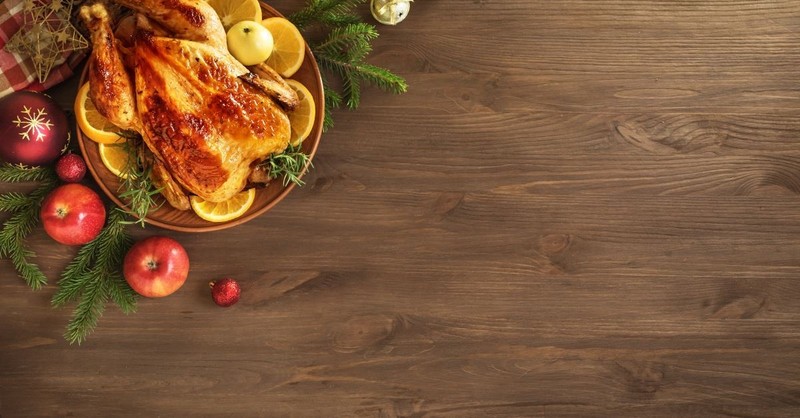 Christmas lights, music, and decorations bring brightness to home and family. It makes my heart happy to "sprinkle" Christmas through every corner of my house. I love the family movie nights with special Christmas treats, and I adore the month-long party celebrating Jesus' birth. But it takes a massive amount of energy to plan and execute this type of Christmas, so it makes sense to start in November.
But Christmas preparations can overshadow Thanksgiving. Soon Thanksgiving turns into a day to relax and watch football. Or it's a time to plan a strategy to score the best of the Black Friday shopping deals. And neither of these are wrong ways to spend Thanksgiving, but Thanksgiving is so much more than that. It's a time to remember.
We Lose Thanksgiving When We Forget to Remember
Remembering is an important part of our walk with Christ. It's a theme we see over and over again in the word of God. As we remember what God has done, is doing, and will do for us, our hearts grow in gratitude.
But most of life happens in the middle. We're in the middle of life-stages where we're pulled between children and parents who need us. Or we're in the middle of a crisis and all we can see is our pain. At other times we're in-between crises and life is pretty mundane.
When we're pulled into the urgent of the middle, we forget to remember. Or we try to remember, but all we see is disappointment, so we give up before anything good comes to mind.
This is where the word of God helps. As we read the Bible, God reveals his heart and character, and we begin to see him in the everyday middle places of our lives. And when it's tough to see his faithfulness towards us, we can read story after story of his faithfulness to others. We discover the different ways his faithfulness shows up so that we learn to see his faithfulness in our own lives. And we remember.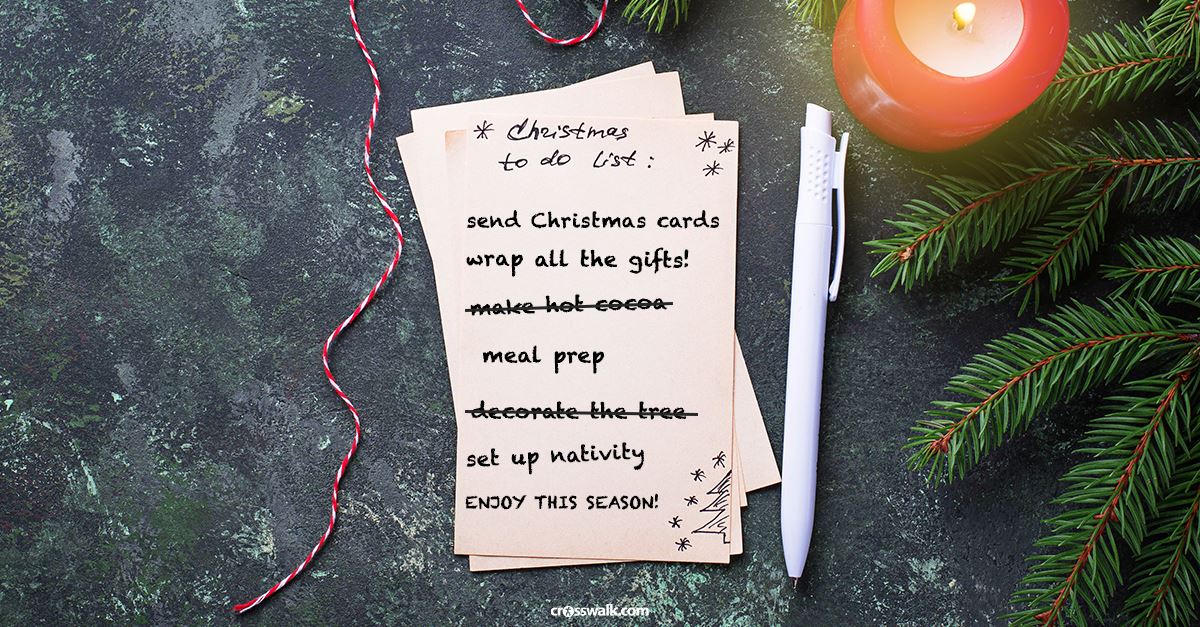 What Are We Supposed to Remember?
Remembering turns to gratitude, which turns to thanksgiving. Remembering is the key to not losing Thanksgiving in the Christmas prep.
But what do we remember? Sometimes looking back causes more pain than we want to experience. I don't know about you, but there's much I would rather stay buried in my memory vault. Things like bad choices that reverberated through my life and others'. Or shame over actions taken that brought grief. What should we remember that stirs thanksgiving and not recrimination? That's our opportunity to focus on God's character, position, power, and provision. It's the remembering of who God is rather than what we've done that paves the way to thanksgiving when we're lonely, aching, happy, sad, or busy and overwhelmed.
Let's approach this Thanksgiving season with an eye and heart turned toward remembering and recognizing who God is.
Easy Thanksgiving Activities for Remembering
Option 1: Craft a Remembrance Tree
Gather a tree branch, a bucket filled with rocks, leaves cut out of paper, a hole punch, and twine. Stand the branch in the bucket and place the leaves, punch, and string nearby. Each day of November, read one of the scriptures at the bottom of this article or one or two verses from Psalm 77 or 136. Then, take a leaf and write on it one aspect of either God's character, position, power, or provision. Use the hole punch to pop a hole in the end of the paper leaf, string a piece of twine through the hole, tie a knot, and hang it on your branch. By the time Thanksgiving rolls around you will have deliberately and strategically preventing losing Thanksgiving in the rush of Christmas prep. And you will have a beautiful and meaningful decoration celebrating the remembrance of who God is and what he does.
Option 2: Deck the House in Reminders
Purchase four different colors of post-it notes. Designate one color for character, a second one for position, a third one for power, and a fourth color for provision. Follow the same procedure in Option 1, but this time use the sticky notes, posting them on a mirror, window, doorframe, or kitchen cupboard. Spend one week on God's character, the next on his position, the following on his power, and the final week of November on his provision.
By taking a few moments each day to focus on remembering God's character, position, power, and provision, we won't lose Thanksgiving in the Christmas prep.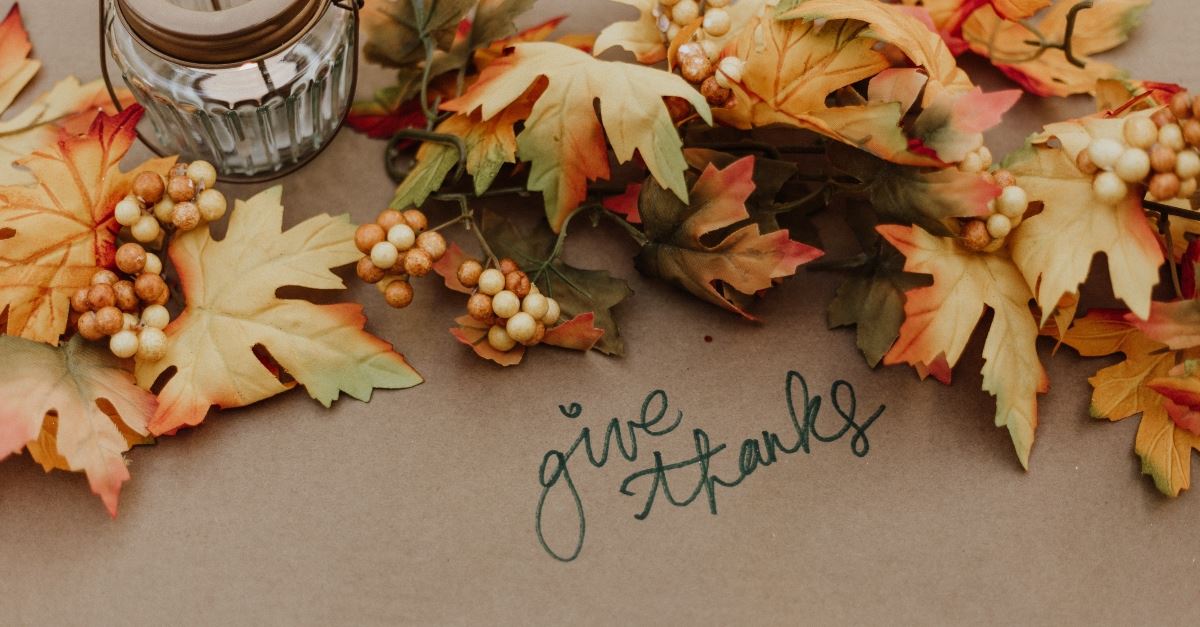 Photo Credit: Unsplash/Priscilla Du Preez
Scripture Verses to Help Us Remember and Give Thanks
God's Character
He is Patient: "The Lord is not slow to fulfill his promise as some count slowness, but is patient toward you, not wishing that any should perish, but that all should reach repentance." (2 Peter 3:9)
He does not change: "Every good gift and every perfect gift is from above, coming down from the Father of lights, with whom there is no variation or shadow due to change." (James 1:17)
He is love: "Anyone who does not love does not know God, because God is love." (1 John 4:8)
He cares: "Casting all your anxieties on him, because he cares for you." (1 Peter 5:7)
He is everlasting: "Have you not known? Have you not heard? The Lord is the everlasting God, the creator of the ends of the earth. He does not faint or grow weary; his understanding is unsearchable." (Isaiah 40:28)
God's Position
He is holy: "For thus says the One who is high and lifted up, who inhabits eternity, whose name is Holy: 'I dwell in the high and holy place and also with him who is of a contrite and lowly spirit, to revive the spirit of the lowly, and to revive the heart of the contrite." (Isaiah 57:15)
He is great: "Your way, O God, is holy. What god is great like our God?" (Psalm 77:13)
He reigns: "God reigns over the nations; God sits on his holy throne." (Psalm 47:8)
He holds authority: "And Jesus came and said to them, 'All authority in heaven and on earth has been given to me.'" (Matthew 28:18)
He holds all things: "Yet for us there is one God, the Father, from whom are all things and for whom we exist, and one Lord, Jesus Christ, through whom are all things and through whom we exist." (1 Corinthians 8:6)
God's Power
He is God of the impossibilities: "But Jesus looked at them and said, 'With man this is impossible, but with God all things are possible.'" (Matthew 19:26)
He raises to life: "And God raised the Lord and will also raise us up by his power." (1 Corinthians 6:14)
He creates all things: "For by him all things were created, in heaven and on earth, visible and invisible, whether thrones or dominions or rulers or authorities—all things were created through him and for him." (Colossians 1:6)
His word is living: "For the word of God is living and active, sharper than any two-edged sword, piercing to the division of soul and of spirit, of joints and of marrow, and discerning the thoughts and intentions of the heart." (Hebrews 4:12)
He is strength: "He gives power to the faint, and to him who has no might he increases strength. Even youths shall faint and be weary, and young men shall fall exhausted; but they who wait for the Lord shall renew their strength; they shall mount up with wings like eagles; they shall run and not be weary; they shall walk and not faint." (Isaiah 40:29-31)
God's Provision
He supplies: "And my God will supply every need of yours according to his riches in glory in Christ Jesus." (Philippians 4:19)
He values us: "Consider the ravens: they neither sow nor reap, they have neither storehouse nor barn, and yet God feeds them. Of how much more value are you than birds." (Luke 12:24)
He gives grace: "And God is able to make all grace abound to you, so that having all sufficiency in all things at all times, you may abound in every good work." (2 Corinthians 9:8)
He sacrifices for us: "He who did not spare his own Son but gave him up for us all, how will he not also with him graciously give us all things?" (Romans 8:32)
He shepherds us: "The Lord is my shepherd; I shall not want. He leads me beside still water. He restores my soul. He leads me in the paths of righteousness for his name's sake." (Psalm 23:1-3)
---
Jessica Van Roekel leads worship in her local church and writes at www.welcomegrace.com. She believes that through Christ our personal histories don't have to define our present or determine our future and writes about the transforming power of grace. Jessica lives in a rural setting surrounded by farmland and her husband and children. You can connect with her on Instagram and Facebook.
Photo Credit: Getty Images