Kathie Lee Gifford Reacts to the Passing of Evangelist Billy Graham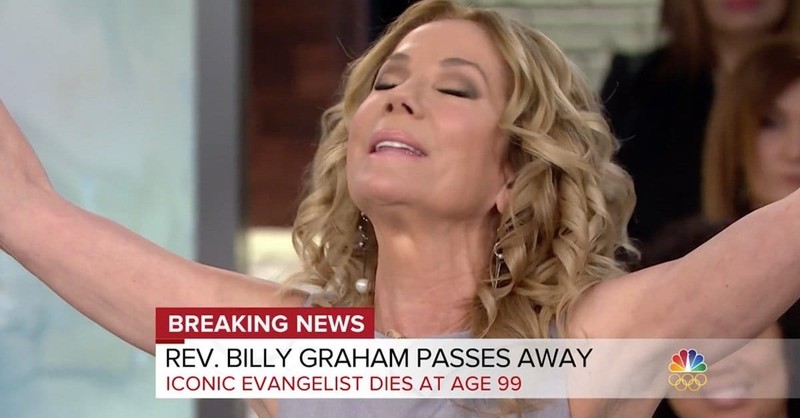 On February 21, 2018 noted Evangelist Billy Graham passed away at age 99. Billy Graham dedicated his life to crusading for Christ.
He toured the world spreading the good news of the Gospel and encouraging others to trust the Lord with their everything. One person that Billy truly impacted is Kathie Lee Gifford. When Kathie Lee was just a little girl she came home to find her mom and her big sister on their knees in front of their TV sobbing. Her heart sunk thinking the worst, but it was then they explained to her they had just given their lives to Jesus Christ.
Kathie's young heart was softened and not much longer after that Kathie herself heard the call of the Lord after seeing 'the Restless Ones.' She heard God tell her that she is special and He wanted to make something special of her life if he would trust her. Years later Kathie Lee had made her way into the spotlight and always tried her best to use her platform to spread the love of the Lord. So when she was holding a Christmas special at her house she invited Billy Graham to join her for the special. He agreed to join her and the two became the best of friends.
Billy Graham was one of the first to reach out to her and Frank when they were trying to recover from Frank's infidelity. He knew that healing had to happen for them both and wanted to help however he could. For the rest of Billy Graham's life Kathie Lee poured into their friendship.
And now, on The Today Show, Kathie Lee is reacting to his death in the most beautiful way. When Kathie Lee got the news, she threw her hands up and praised the Lord for taking away Billy's pain.
 
WATCH: Kathie Lee Reacts To The Death Of Billy Graham
He had been struggling here on earth and now Kathie knows he is no longer in any pain. She was blessed enough to say goodbye and thank you Billy the most recent time she saw him knowing in her heart it would be the last time. And in honor of Billy, Kathie Lee took advantage of her time on live TV to proclaim that Jesus is the giver of peace that passes all understanding, and that in our darkest times He is the only one who gives us true hope.
It was incredible hearing how Billy Graham touched the lives of so many through the word of the Holy Bible! And how truly proud he would be to hear Kathie Lee spreading the Gospel to continue his legacy.
YOU MAY ALSO LIKE: How Billy Graham Helped Chip And Joanna Find The Secret To Success