These Powerful Psalms Will Restore and Refresh Your Soul!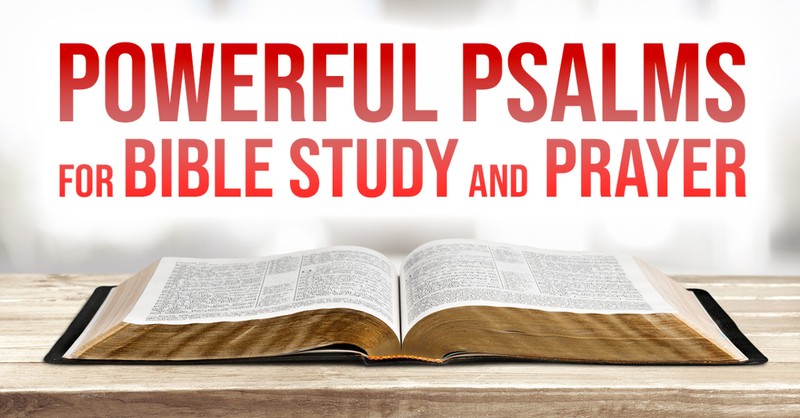 The book of Psalms is renowned for its songs of praise, prayers of humility, and personal mournings we can use to strengthen our faith. The Psalms were written to reveal what must be done to obey God's word and help us overcome the sins that separate us from God.
Listen and pray with these Psalm scriptures to grow in faith, love, and humility.
Subscribe to iBelieve's Youtube channel and click the bell for notifications of new videos!
Psalm 1: The Way of the Righteous and the Wicked
1 Blessed is the man who walks not in the counsel of the wicked, nor stands in the way of sinners, nor sits in the seat of scoffers;
2 but his delight is in the law of the LORD, and on his law he meditates day and night.
3 He is like a tree planted by streams of water that yields its fruit in its season, and its leaf does not wither. In all that he does, he prospers.
4 The wicked are not so, but are like chaff that the wind drives away.
5 Therefore the wicked will not stand in the judgment, nor sinners in the congregation of the righteous;
6 for the LORD knows the way of the righteous, but the way of the wicked will perish.
Psalm 23: A Psalm of David.
1 The LORD is my shepherd; I shall not want.
2 He makes me lie down in green pastures. He leads me beside still waters.
3 He restores my soul. He leads me in paths of righteousness for his name's sake.
4 Even though I walk through the valley of the shadow of death, I will fear no evil, for you are with me; your rod and your staff, they comfort me.
5 You prepare a table before me in the presence of my enemies; you anoint my head with oil; my cup overflows.
6 Surely goodness and mercy shall follow me all the days of my life, and I shall dwell in the house of the LORD forever.
Psalm 34: Taste and See That the Lord Is Good
1 I will bless the LORD at all times; his praise shall continually be in my mouth.
2 My soul makes its boast in the LORD; let the humble hear and be glad.
3 Oh, magnify the LORD with me, and let us exalt his name together!
4 I sought the LORD, and he answered me and delivered me from all my fears.
5 Those who look to him are radiant, and their faces shall never be ashamed.
6 This poor man cried, and the LORD heard him and saved him out of all his troubles.
7 The angel of the LORD encamps around those who fear him, and delivers them.
8 Oh, taste and see that the LORD is good! Blessed is the man who takes refuge in him!
9 Oh, fear the LORD, you his saints, for those who fear him have no lack!
10 The young lions suffer want and hunger; but those who seek the LORD lack no good thing.
Psalm 51: Create in Me a Clean Heart, O God
1 Have mercy on me, O God, according to your steadfast love; according to your abundant mercy blot out my transgressions.
2 Wash me thoroughly from my iniquity, and cleanse me from my sin!
3 For I know my transgressions, and my sin is ever before me.
4 Against you, you only, have I sinned and done what is evil in your sight, so that you may be justified in your words and blameless in your judgment.
5 Behold, I was brought forth in iniquity, and in sin did my mother conceive me.
6 Behold, you delight in truth in the inward being, and you teach me wisdom in the secret heart.
7 Purge me with hyssop, and I shall be clean; wash me, and I shall be whiter than snow.
8 Let me hear joy and gladness; let the bones that you have broken rejoice.
9 Hide your face from my sins, and blot out all my iniquities.
10 Create in me a clean heart, O God, and renew a right spirit within me.
11 Cast me not away from your presence, and take not your Holy Spirit from me.
12 Restore to me the joy of your salvation, and uphold me with a willing spirit.
Psalm 91: My Refuge and My Fortress
1 He who dwells in the shelter of the Most High will abide in the shadow of the Almighty.
2 I will say to the LORD, "My refuge and my fortress, my God, in whom I trust."
3 For he will deliver you from the snare of the fowler and from the deadly pestilence.
4 He will cover you with his pinions, and under his wings you will find refuge; his faithfulness is a shield and buckler.
5 You will not fear the terror of the night, nor the arrow that flies by day,
6 nor the pestilence that stalks in darkness, nor the destruction that wastes at noonday.
7 A thousand may fall at your side, ten thousand at your right hand, but it will not come near you.
8 You will only look with your eyes and see the recompense of the wicked.
9 Because you have made the LORD your dwelling place-- the Most High, who is my refuge--
10 no evil shall be allowed to befall you, no plague come near your tent.
11 For he will command his angels concerning you to guard you in all your ways.
12 On their hands they will bear you up, lest you strike your foot against a stone.
13 You will tread on the lion and the adder; the young lion and the serpent you will trample underfoot.
14 "Because he holds fast to me in love, I will deliver him; I will protect him, because he knows my name.
15 When he calls to me, I will answer him; I will be with him in trouble; I will rescue him and honor him.
16 With long life I will satisfy him and show him my salvation."
Psalm 121: A Song of Ascents.
1 I lift up my eyes to the hills. From where does my help come?
2 My help comes from the LORD, who made heaven and earth.
3 He will not let your foot be moved; he who keeps you will not slumber.
4 Behold, he who keeps Israel will neither slumber nor sleep.
5 The LORD is your keeper; the LORD is your shade on your right hand.
6 The sun shall not strike you by day, nor the moon by night.
7 The LORD will keep you from all evil; he will keep your life.
8 The LORD will keep your going out and your coming in from this time forth and forevermore.
May the Lord bless you and keep you! Subscribe to the iBelieve Youtube channel for new encouraging Christian videos.
Photo credit: ©SalemDesign