December 22
"Behold, the Lord GOD will come with might, With His arm ruling for Him. Behold, His reward is with Him And His recompense before Him. Like a shepherd He will tend His flock, In His arm He will gather the lambs And carry them in His bosom; He will gently lead the nursing ewes." - Isaiah 40:10-11
How fitting that the news about the coming of the Good Shepherd should be given first to shepherds, "abiding in the field, keeping watch over their flocks by night." That's what it means for shepherds to tend their sheep. They dwell with the sheep, in the field, and the Good Shepherd comes into the world where we live. Shepherds guard their sheep, and Jesus keeps watch over His people continuously. Shepherds do this even in the night, so that no predators creep under the darkness. Jesus tends the "sheep of His pasture" in the deep dark, and the destroyer cannot steal us away when our world turns to night.
Click here to sign up for your free Winning Walk newsletter!
OUR THANK YOU TO YOU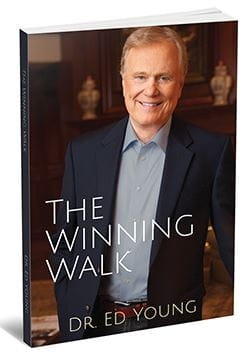 Discover God's Path for You!
Many people today live in defeat, never finding God's will for them. But God wants so much more for you!
That's why we're excited to reserve for you a special 35th Anniversary Edition of Dr. Young's book that started it all,
The Winning Walk,
scheduled for re-release later this year. In it, you'll discover what it takes to walk victoriously as you discover the path God has for you.
So be sure to reserve your copy of
The Winning Walk
when you give your gift below. And thank you for your support to share the proven truth of God's Word with more people around the world.