December 27
And He is the radiance of His glory and the exact representation of His nature, and upholds all things by the word of His power. When He had made purification of sins, He sat down at the right hand of the Majesty on high, having become as much better than the angels, as He has inherited a more excellent name than they. - Hebrews 1:3-4
Years ago I spent the night in the Smoky Mountains in a sleeping bag. I arose before the sun was up, and in the darkness could see a scattering of snow. I shivered in the cold. Then the sun came up, and I watched its rays stroll gently through the trees. The snow melted, and I was warmed. It reminded me of Jesus. Though the analogy fails ultimately, He is to the Father what the sun's rays are to it. He is the light that casts out the darkness, and brings warmth and energy to His children.
Click here to sign up for your free Winning Walk newsletter!
OUR THANK YOU TO YOU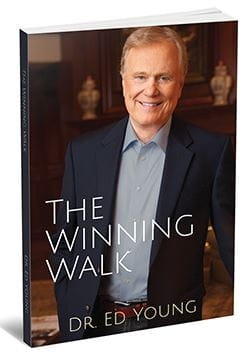 Discover God's Path for You!
Many people today live in defeat, never finding God's will for them. But God wants so much more for you!
That's why we're excited to reserve for you a special 35th Anniversary Edition of Dr. Young's book that started it all,
The Winning Walk,
scheduled for re-release later this year. In it, you'll discover what it takes to walk victoriously as you discover the path God has for you.
So be sure to reserve your copy of
The Winning Walk
when you give your gift below. And thank you for your support to share the proven truth of God's Word with more people around the world.