December 5
For a child will be born to us, a son will be given to us; And the government will rest on His shoulders; And His name will be called Wonderful Counselor, Mighty God, Eternal Father, Prince of Peace. - Isaiah 9:6
Government restrains the chaos the serpent lets loose in the world. But government, too, can be caught in the deadly vortex if it has the wrong foundation. Law easily slides into force and tyranny. The only hope for liberty in a world gone mad is government based on love and grace. The Promised One will come bearing the government of the Kingdom of God. As Wonderful Counselor, Mighty God and Eternal Father, He will be strong enough to restrain evil, but gentle enough to be the Prince of Peace.
Click here to sign up for your free Winning Walk newsletter!
OUR THANK YOU TO YOU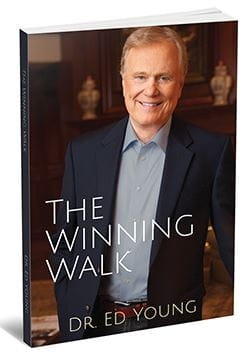 Discover God's Path for You!
Many people today live in defeat, never finding God's will for them. But God wants so much more for you!
That's why we're excited to reserve for you a special 35th Anniversary Edition of Dr. Young's book that started it all,
The Winning Walk,
scheduled for re-release later this year. In it, you'll discover what it takes to walk victoriously as you discover the path God has for you.
So be sure to reserve your copy of
The Winning Walk
when you give your gift below. And thank you for your support to share the proven truth of God's Word with more people around the world.