July 15
Christ redeemed us from the curse of the Law, having become a curse for us — for it is written, "CURSED IS EVERYONE WHO HANGS ON A TREE" — in order that in Christ Jesus the blessing of Abraham might come to the Gentiles, so that we would receive the promise of the Spirit through faith.
Galatians 3:13-14
Get in a fancy cruise ship and all the amenities are yours—the fine food, sparkling floor shows, elegant lounges. Centuries ago, God promised Abraham that the seed "in" him would be blessed beyond imagination. The Jews who descended from Abraham would the repository of all the covenant promises. Then the focus narrowed to one Jew who came through Abraham's line—Jesus Christ. Through Him, the most amazing thing happens: Non-Jews, Gentiles, have opportunity to become one with the marvelous covenant God made with Abraham, and all the promises attached to it. Get in Christ, and all the amenities of the covenant are yours. 
Click here to sign up for your free Winning Walk newsletter!
---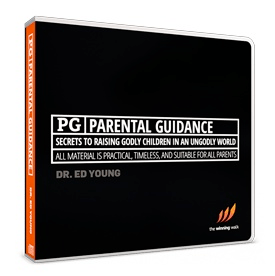 Transform how you think about parenting!
Most anyone can become a parent, but successful parenting eludes so many. Even many Christian families find themselves spiraling out of control as their children fall victim to drug and alcohol abuse, sexual promiscuity, and even suicide.
 
That's why Dr. Ed Young put together his easy-to-follow 3-message CD series, Parental Guidance. In it, Dr. Young reveals proven truth that every mother, father, and grandparent can immediately embrace in order to build and strengthen their family.
 
Parental Guidance is our gift to say thank you for your donation below to help share proven truth through The Winning Walk's broadcast ministry. We pray it transforms the way you think about parenting!