June 7
For the mind set on the flesh is death, but the mind set on the Spirit is life and peace…
Romans 8:6
Are you a "springer" or a "feeler"? Springers pop out of bed each morning ready to dance into the day. Feelers take it slow. Their eyes open and they lie there awhile, then stretch one leg down to the floor, followed slowly by the other. I know, because I'm a feeler. Springers also go to sleep when they head hits the pillow. But we feelers ease in and ease out. When I ease into the day after waking, I am setting my mind, a necessity for both types. If you're a springer, it's important to discipline yourself to wait and set your mind on the Spirit, and if you're a feeler, you must discipline yourself out of bed once the mind of set.
Click here to sign up for your free Winning Walk newsletter!
OUR THANK YOU TO YOU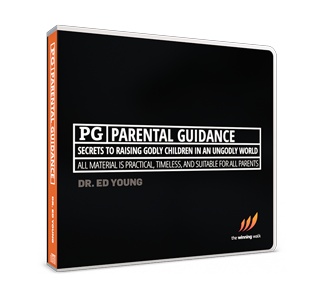 Most anyone can become a parent, but successful parenting eludes so many. Even many Christian families find themselves spiraling out of control as their children fall victim to drug and alcohol abuse, sexual promiscuity, and even suicide.
That's why Dr. Ed Young put together his easy-to-follow 3-message CD series,Parental Guidance. In it, Dr. Young reveals proven truth that every mother, father, and grandparent can immediately embrace in order to build and strengthen their family.