May 22
God arms me with strength; he has made my way safe.
Psalm 18:32 NLT
Weather has determined the outcome of many battles. It was frustration with hampering conditions that prompted General George Patton to ask his chaplain to write and issue a "weather prayer" two days prior to the Battle for the Bulge. The Allies won by air power, made possible by fair weather. David had skirmished and fought many foes. King Saul sought his life. But when David seemed outnumbered and overwhelmed, God would somehow get him through the fog and storm. God's covenant promise is that He will make conditions right for victory for you.
Click here to sign up for your free Winning Walk newsletter!
OUR THANK YOU TO YOU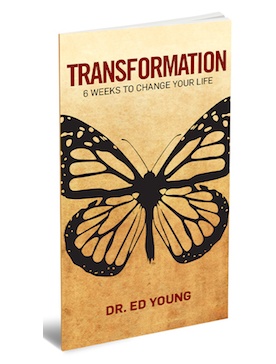 Change your life in 6 weeks!

Seeing real and lasting change in your life isn't going to happen by making a resolution, having more resolve, or reading a self-help book. The key is surrendering everything you have to God!

Dr. Young shows you how to do this in his brand new pocket-size book, Transformation: 6 Weeks to Change Your Life. And we want to send you a copy to say thank you for your donation to help The Winning Walk continue broadcasting the proven truth of God's Word around the world.

Discover the freedom you've been looking for! Request Transformation when you give your best gift below. And thank you for your generous support so more people can hear the proven truth of God's Word through The Winning Walk!