November 5
"But I tell you the truth, it is to your advantage that I go away; for if I do not go away, the Helper will not come to you; but if I go, I will send Him to you."
John 16:7
I'm always a little suspicious of people who start out saying, "Now this is the truth…" But Jesus knew this would be hard for His disciples to believe. "It's to your advantage I go away." He had told them of their future suffering, and now He seems to say He won't be around. But later they discover the advantage. In His physical body, He couldn't be with them in Judea when He was in Galilee. But through His Holy Spirit, Jesus would be with His suffering people wherever they may be, and in whatever era they live, including the 21st century.
Click here to sign up for your free Winning Walk newsletter!
OUR THANK YOU TO YOU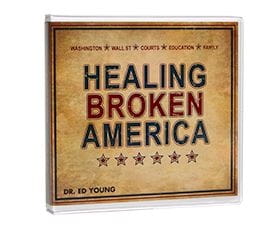 Be a Part of the Healing of Broken America!
A quick glance at the nightly news, the newspaper, or the Internet reveals that we are experiencing one crisis after another. Washington is broken, Wall Street is broken, the
courts are broken, the schools are broken. Even the
family
is broken!
In his 6-message CD series,
Healing Broken America
, Dr. Ed Young addresses head-on the major areas in our country that must change if we are to see our nation restored. He clearly defines the five areas where America is broken, and then offers common sense, biblically-based remedies for healing those wounded areas. Learn how to be part of the solution for America.