October 2
You have taught children and nursing infants to give you praise.  They silence your enemies who were seeking revenge. - Psalm 8:2 NLT
My childhood home was in a small town, but sandwiched close to other houses. The next door neighbor has 26 dogs. At night they would howl like packs of banshees. During World War 2, my dad worked two shifts, and needed sleep. One night he could stand the howling no longer, and went out to our car and laid down on the horn. He told the neighbor he would stop the blare when the dogs ceased their barking. When God's people lift up the joyful noise of praise and worship, the powers of darkness are silenced. Praising God mutes the enemy.
Click here to sign up for your free Winning Walk newsletter!
---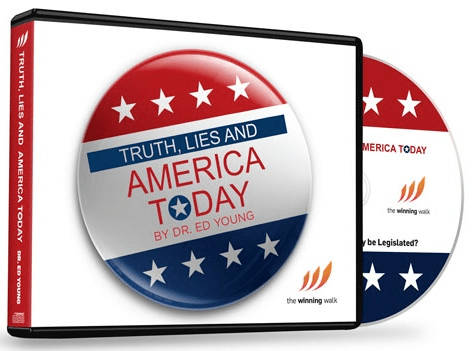 We've been told lies as a society, and many of us – even believers – have come to accept them as truth.
 
Dr. Ed Young exposes many of these lies in his 3-message CD series 'Truth, Lies, and America Today.'

You'll hear about steps you can take to:
       •Reestablish God's truth in your home and community
       •Rebuild our nation's moral foundation
       •Restore hope for future generations  

'Truth, Lies, and America Today' is our gift to thank you for your first monthly gift as a Winning Walk Pacesetter.
 
The faithful support of Pacesetters is crucial for helping proclaim proven truth on radio, television, and the internet – so please prayerfully consider becoming a Pacesetter today.
 
When you do, we'll send you 'Truth, Lies, and America Today' to help stand against the lies of our culture with the proven truth of God's Word.
 
We're so grateful for your partnership!