September 3
Moses built an altar and named it The LORD is My Banner… - Exodus 17:15
When the enemy thunders down on the Hebrews in the wilderness, Moses lifts up his staff and calls down the power of God. The rod wasn't magic, but symbolized that the Jews were marching under the banner of the true God. It was as if Moses' staff had a flag attached. It symbolized the source of their aid, their allegiance and their alignment. When the Lord is our banner, we declare that our aid comes from Him, our allegiance is to Him and His Kingdom, and we align with His values and character as our standard.
Click here to sign up for your free Winning Walk newsletter!
OUR THANK YOU TO YOU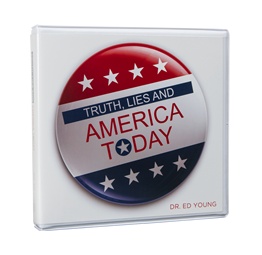 Our Gift to You - Truth, Lies, and America Today CD Series
Truth, Lies, and America Today is a bold and controversial three-message series that lays bare the lies American society has come to accept as truth: lies about morality, the role of the church, the role of government, the sanctity of life, and more. Dr. Ed Young shares the steps all believers can take to reestablish God's truth in their home and community and to rebuild a moral foundation upon which our nation can stand and flourish!