The Dark Threads
by Berni Dymet
Prov. 19:20-21 Listen to advice and accept instruction, that you may gain wisdom for the future. The human mind may devise many plans, but it is the purpose of the Lord that will be established.
I received a letter recently from a man who suffered a stroke seven years ago.  He lost His sense of taste and his ability to speak.  And on top of it all off, he's been deaf ever since.  He said, "I don't know why God hasn't given me back my hearing."  It makes your heart ache. 
What the heck's God up to?!  Why…why doesn't God do something?
As I sat and thought and prayed for this man, an old poem came to mind.  It's called "The Weaver" …
My life is but a weaving
Between my Lord and me.
I cannot choose the colors
As He weaveth steadily.
Sometimes He chooses dark threads
And I in foolish pride,
Forget He sees the upper
And I the under side.
Not till the loom is silent
And the shuttles cease to fly,
Will God unroll the canvass
And explain the reason why.
The dark threads are as needful
In the Weaver's skillful hand,
As the threads of Gold and Silver,
In the pattern He has planned.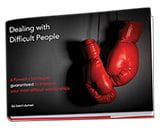 Get a Free eBook from Berni Dymet, Dealing with Difficult People. This timely and relevant eBook contains 6 powerful principles guaranteed to improve your most difficult relationships. And you can download it FREE, right now.