The Widow Gives All
by Berni Dymet
Luke 21:1-4 He looked up and saw rich people putting their gifts into the treasury; he also saw a poor widow put in two small copper coins. He said, "Truly I tell you, this poor widow has put in more than all of them; for all of them have contributed out of their abundance, but she out of her poverty has put in all she had to live on.
It's Saturday. The Sabbath. People are putting money in the offering at the temple. Some rich businessmen in their fine clothes put their money in; quite a lot, most of them.
The middle class families - they kick in their bit. Of course it's a bit harder for them. They don't have quite as much, but they're doing okay so they put their bit in for God too.
And then, almost unnoticed, this old, shriveled widow comes along. No social benefits back then. And she takes out two small copper coins. A pittance compared to everyone else. And she puts them in the offering to support God's work.
And Jesus looks at that and says: Look, she's given more than everyone else. The rest of them gave out of their abundance; but she out of her poverty had given all she had to live on.
Seems that Jesus isn't so much interested in how much we give. What really matters to Him - is how much it costs us.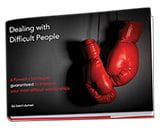 Get a Free eBook from Berni Dymet, Dealing with Difficult People. This timely and relevant eBook contains 6 powerful principles guaranteed to improve your most difficult relationships. And you can download it FREE, right now.