Active Word - Dec. 25

December 25
An Unexpected Gift
Great is the mystery of godliness: God was manifested in the flesh… 1 Timothy 3:16 (NKJV)
Chances are, there are a few Christmas gifts you're expecting to receive today. But it's highly likely that you're also going to get a few that are totally unexpected. Go ahead and put this devotion in that second category, because you're about to receive an unexpected understanding of eusebeia.
"Eusebeia…that sounds like some sort of disease." Far from being a disease, it's the original Greek word that the Bible uses for "godliness" in the verse above. It comes from the root word "eusebes," which literally means "devout" or "pious." In this particular passage, it identifies a reverential and respectful attitude towards the Lord. The exact opposite would be a heart that's proud and arrogant, unbending or yielding to anyone or anything.
Eusebeia describes someone who has crossed-over from a self-dominated life to a life of surrender and submission to God…which is actually the freest way of life there is. So if you used to struggle under the weight of your own self-centeredness but found freedom and peace by belonging to the Prince of Peace, then you've experienced eusebeia…you've gone from godlessness to godliness.
But what does this have to do with Christmas? Notice how the above verse links this incredible experience of going from godlessness to godliness with the Christmas Story. God is described as being manifested in the flesh, which is another way of referring to Christ's incarnation. An important connection is being made here, as it reminds us we'd never have known this life of liberty if Jesus had never been born into our world. His incarnation was the first domino to fall in God's redemptive plan to rescue us from the tyranny of our own sinful selves.
Granted, this isn't a conventional Christmas-y message, and you certainly didn't wake up this morning expecting to read about eusebeia. But as you walk in the freedom of living a life surrendered to the Lord, remember that it's only possible through the event we commemorate and celebrate this day. Merry Christmas, and may you experience the gift of eusebeia this and every day!
Think About It…
What does this passage reveal to me about God?
What does this passage reveal to me about myself?
Based on this, what changes do I need to make?
What is my prayer for today?
SPECIAL OFFER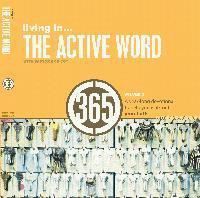 God's mercy is new every day. That's because it's needed
daily
. So to help you walk through a fresh new day, the Active Word has put together this second volume of the 365 Devotional. Our hope in creating this series of devotionals, is to help you connect with God's Word 365 days a year. And the best thing is, you can start any day of the year. Stay in step with God's Word, His will, and learn to live out your
faith
, daily.
Recently on Active Word with Pastor Bob Coy
Follow us on Facebook
Get Active Word with Pastor Bob Coy devotionals directly to your News Feed.
Have something to say about this article? Leave your comment via Facebook below!
advertise with us
Example: "Gen 1:1" "John 3" "Moses" "trust"
Advanced Search
Listen to Your Favorite Pastors