Active Word - February 25

February 25
An unlikely figure of faith
By faith the harlot Rahab did not perish with those who did not believe, when she had received the spies with peace. Hebrews 11:31 (NKJV)
For anyone who feels that faith is only for those who fit the "religious" mold, we have the example of Rahab.
In case you're not aware, the Bible tells us Rahab was a prostitute (Joshua 2:1), and a pagan prostitute at that! Seriously, if there were ever a person who you'd least expect to find alongside the likes of Abraham and Moses, it would be Rahab. And yet, there's her name listed in verse 31 of Hebrews Chapter 11!
Was God running low on examples? Was He scraping the bottom of the barrel here? No on both counts. God was deliberately showing us the full range of faith. He's showing us that it's accessible to everyone, including a prostitute who had no connection whatsoever to what we would consider a religious life.
What she did have was faith. She had heard the reports of God being with the Israelites and giving them victory over all their enemies. Her people were in line to be their next victims. But Rahab, believing that God was with Israel, decided to side with them. And as a result, she was saved while the rest of her people weren't.
Faith isn't something a person has to go to seminary or Bible college to get. It's not some treasure locked away in some celestial ivory tower. No, it's something that's accessible to anyone who is willing to hear and weigh the testimony concerning the things of God. A pagan prostitute was able to assess things and say, "Hey, I believe God is moving in a certain direction, and I choose to follow."
How refreshing and important Rahab's example is! It reminds us that the thing which matters most, faith, is also something that can be experienced and exercised by literally anyone. We would do well to remember that when it comes to those we might be tempted to consider beyond faith's reach!
Think About It…
What does this passage reveal to me about God?
What does this passage reveal to me about myself?
Based on this, what changes do I need to make?
What is my prayer for today?
SPECIAL OFFER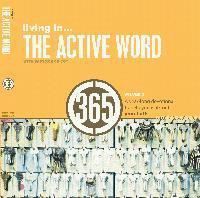 God's mercy is new every day. That's because it's needed
daily
. So to help you walk through a fresh new day, the Active Word has put together this second volume of the 365 Devotional. Our hope in creating this series of devotionals, is to help you connect with God's Word 365 days a year. And the best thing is, you can start any day of the year. Stay in step with God's Word, His will, and learn to live out your faith, daily.
Recently on Active Word with Pastor Bob Coy
Follow us on Facebook
Get Active Word with Pastor Bob Coy devotionals directly to your News Feed.
Have something to say about this article? Leave your comment via Facebook below!
advertise with us
Example: "Gen 1:1" "John 3" "Moses" "trust"
Advanced Search
Listen to Your Favorite Pastors