Active Word - January 7



January 7
Hold out!
Those who sow in tears shall reap in joy. Psalms 126:5 (NKJV)

"Everything is going to be O.K." We hear that all the time, but how often is it really true? The encouraging coach can make this promise to his players, but he doesn't really know how the game will play out or if the team will win. A reassuring doctor can claim to have a patient's condition under control, but there's always the chance that things will take an unforeseeable turn. And the weatherman…well, you can see where this is headed.
Realistically, when people assure us that everything is going to be O.K., it's not a sure thing. Why? Because at the end of the day, they're mere humans, and they don't have the authority or ability to give such a guarantee.
But then there's God, who has all authority and ability. And His Word tells us "those who sow in tears shall reap in joy." In essence, He's telling us, "Everything is going to be O.K." No matter what's got you crying right now—the loss of a loved one, a trial that's excruciating, job troubles, whatever—one day it's going to be redeemed in such a way that it will be a catalyst for great joy.
How can we say that? Because God did. It's His promise, not man's, and His promises always stand true. A mist may shroud a mighty mountain for a season of time, but eventually the fog burns off and the peak's permanence is revealed.
God is the one who has given this guarantee, but we're the ones who have to grab hold of it. When all seems to be turned against you, when the waves are about to wash you overboard, when sorrow seems to have swallowed you whole, hold out for the promise that He will turn every sorrow into joy.
O Faithful One, give us the grace to hold out for the fulfillment of Your promise to turn our sorrow into joy.
Think About It…
What does this passage reveal to me about God?
What does this passage reveal to me about myself?
Based on this, what changes do I need to make?
What is my prayer for today?
SPECIAL OFFER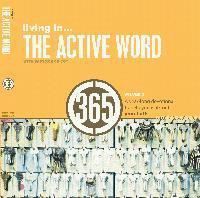 God's mercy is new every day. That's because it's needed
daily
. So to help you walk through a fresh new day, the Active Word has put together this second volume of the 365 Devotional. Our hope in creating this series of devotionals, is to help you connect with God's Word 365 days a year. And the best thing is, you can start any day of the year. Stay in step with God's Word, His will, and learn to live out your
faith
, daily.
Recently on Active Word with Pastor Bob Coy
Follow us on Facebook
Get Active Word with Pastor Bob Coy devotionals directly to your News Feed.
Have something to say about this article? Leave your comment via Facebook below!
advertise with us
Example: "Gen 1:1" "John 3" "Moses" "trust"
Advanced Search