Active Word - May 20


May 20
A study in separation - Moses, part 1
And the child grew, and she brought him to Pharaoh's daughter, and he became her son. So she called his name Moses, saying, "Because I drew him out of the water." Exodus 2:10 (NKJV)
It's as dramatic as any rags to riches story that's ever been. In ancient Egypt, a Hebrew boy is born. But because Pharaoh was worried about the growing Hebrew presence in his land, the baby is supposed to be summarily executed. Before he barely has a chance to breathe, his life is counted as nothing.
However, God had something special in store for this child. Through a series of events that can only be attributed to Him, the baby's life is spared and comes to the attention of Pharaoh's own daughter. She decides to take him in and names him Moses. So this little life goes from being a worthless and despised nothing to being a member of the most powerful family of the most powerful empire on earth at that time.
Moses was providentially put in a position of power and prestige. Look what Stephen says about Moses in his famous sermon:
"Pharaoh's daughter took him away and brought him up as her own son…Moses was learned in all the wisdom of the Egyptians, and was mighty in words and deeds." (Acts 7:21-22 NKJV)
The picture painted in our mind is one in which Moses becomes a man of great means. He was undoubtedly tutored by the best teachers Egypt had to offer, was given every advantage imaginable, and eventually flourished and thrived. He was young, smart, strong, rich, and powerful. Suffice it to say, within the bustling context of ancient Egypt, Moses was a real somebody.
Associations and affiliations must have been more abundant than anything we can imagine. And for many years, that's what Moses' life consisted of. But something would happen that would turn it all upside down…something that would strip away every earthly layer of security he had come to acquire.
Think About It…
What does this passage reveal to me about God?
What does this passage reveal to me about myself?
Based on this, what changes do I need to make?
What is my prayer for today?
SPECIAL OFFER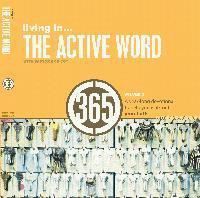 God's mercy is new every day. That's because it's needed
daily
. So to help you walk through a fresh new day, the Active Word has put together this second volume of the 365 Devotional. Our hope in creating this series of devotionals, is to help you connect with God's Word 365 days a year. And the best thing is, you can start any day of the year. Stay in step with God's Word, His will, and learn to live out your
faith
, daily.
Recently on Active Word with Pastor Bob Coy
Follow us on Facebook
Get Active Word with Pastor Bob Coy devotionals directly to your News Feed.
Have something to say about this article? Leave your comment via Facebook below!
advertise with us
Example: "Gen 1:1" "John 3" "Moses" "trust"
Advanced Search
Listen to Your Favorite Pastors