Active Word - Nov. 13

November 13
The parable's point
He began to speak to them in parables… Mark 12:1 (NKJV)
Christ's earthly ministry was rapidly coming to a close. He presented Himself to Israel as its King and found their faith was lacking. It wouldn't be long before the crowds would be calling for His execution. But before that happens, we see several exchanges between Jesus and the religious leaders.
One exchange revolved around a parable. Jesus shared a story about a man who planted a vineyard and entrusted it to caretakers while He went into another country. The time for the harvest came and the owner of the vineyard sent a servant to collect the fruit. Instead of complying, the caretakers beat the servant and sent him away empty handed.
Another servant was sent and the caretakers injured him, too. The owner continued to send a steady stream of servants, and they beat and even killed one after the other. Finally, the owner sent his own son thinking, "Surely, they will respect my son." But when the son showed up they killed him out of envy.
Of course, this is a ridiculous scenario. No owner in his right mind would put up with this. He would get rid of the caretakers before allowing their rebellion to go this far. This owner had been incredibly patient and was well justified in taking back his vineyard and entrusting it to someone else.
Can you see the parable's point? The owner is God, the vineyard is Israel, the caretakers are the religious leaders, the fruit is the fruit of righteousness, the servants are the prophets God sent, and the son is none other than Jesus. The rulers were expected to produce righteousness, but they did the exact opposite. Christ's parable is a mirror reflecting the depth of their sin, as well as the depth of God's grace.
While this parable has direct application to the rulers in Jesus' day, it's a powerful reminder of God's mercy towards us. We're all guilty sinners, but God isn't quick to judge us. He patiently and persistently extends forgiveness our way…even to the point of sending His own Son.
Think About It…
What does this passage reveal to me about God?
What does this passage reveal to me about myself?
Based on this, what changes do I need to make?
What is my prayer for today?
SPECIAL OFFER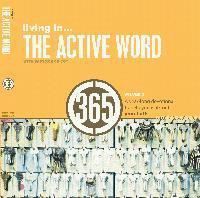 God's mercy is new every day. That's because it's needed
daily
. So to help you walk through a fresh new day, the Active Word has put together this second volume of the 365 Devotional. Our hope in creating this series of devotionals, is to help you connect with God's Word 365 days a year. And the best thing is, you can start any day of the year. Stay in step with God's Word, His will, and learn to live out your faith, daily.
Recently on Active Word with Pastor Bob Coy
Follow us on Facebook
Get Active Word with Pastor Bob Coy devotionals directly to your News Feed.
Have something to say about this article? Leave your comment via Facebook below!
advertise with us
Example: "Gen 1:1" "John 3" "Moses" "trust"
Advanced Search
Listen to Your Favorite Pastors