Active Word - Nov. 28

November 28
Which one are you?
And they crucified Him. Mark 15:25 (NKJV)
It had finally arrived. The reason Jesus was born into humanity and spent roughly three decades on earth had finally come. As He slowly died on the cross, His sinless life was offered as payment for the sins of all mankind, and Mark's gospel describes three types of people present at the cross.
Those who passed by blasphemed Him…saying, "Aha! You who destroy the temple and build it in three days, save Yourself, and come down from the cross!" Mark 15:29-30 (NKJV)
First, there were those who blasphemed (or opposed) Jesus at the cross. Their eyes were completely blinded to what was happening in front of them. To them, this Man's death on the cross was no different than the death of the countless criminals who had been crucified.
Jesus cried out with a loud voice, and breathed His last…when the centurion, who stood opposite Him, saw that He cried out like this and breathed His last, he said, "Truly this Man was the Son of God!" Mark 15:27-39 (NKJV)
Second, we see someone who was impressed with Jesus on the cross. The Roman centurion who oversaw the execution recognized there was something different about this man. This wasn't just another death. But although he was impressed and even refers to Jesus as God's Son, we don't see evidence of any lasting impression or personal connection with Him.
There were also women looking on from afar…who also followed Him and ministered to Him... Mark 15:40-41 (NKJV)
Third, there were those who had a personal relationship with Jesus. Women who truly knew Him, who faithfully followed and supported Him from the beginning of His ministry, watched as this Man who had changed countless lives now offered His.
Three types of people were at the cross. Now ask yourself which one you are. Are you a blasphemer who disregards what Jesus did on the cross because you're blinded to its significance? Are you a person who's impressed but only to a superficial extent? Or are you someone who personally knows Jesus and appreciates the power of the cross?
Think About It…
What does this passage reveal to me about God?
What does this passage reveal to me about myself?
Based on this, what changes do I need to make?
What is my prayer for today?
SPECIAL OFFER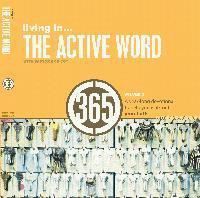 God's mercy is new every day. That's because it's needed
daily
. So to help you walk through a fresh new day, the Active Word has put together this second volume of the 365 Devotional. Our hope in creating this series of devotionals, is to help you connect with God's Word 365 days a year. And the best thing is, you can start any day of the year. Stay in step with God's Word, His will, and learn to live out your
faith
, daily.
Recently on Active Word with Pastor Bob Coy
Follow us on Facebook
Get Active Word with Pastor Bob Coy devotionals directly to your News Feed.
Have something to say about this article? Leave your comment via Facebook below!
advertise with us
Example: "Gen 1:1" "John 3" "Moses" "trust"
Advanced Search
Listen to Your Favorite Pastors