NAME OF GOD: El Sali
Verse: The Lord lives, and blessed be my rock (El Sali); and exalted be God, the rock of my salvation. - 2 Samuel 22:47
Meaning: God, my Rock.
Prayer: Thanksgiving
El Sali you deserve my gratitude. You stay steady when all else around me crumbles and falls. Thank you for the power of your strength – thank you that you are my rock, you are the God of my salvation. Thank you for Jesus Christ and his sacrifice for my sins. Thank you that you not only save me for eternity but you offer me salvation while on earth. Accept my humble words and heart of prayer as I bow before you to thank you for all that you have done for me.
Watch Online Videos of Dr. Tony Evans and The Urban Alternative at LightSource.com
and
Listen to Dr. Tony Evans Online Broadcasts at OnePlace.com.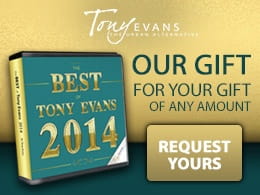 The Best of Tony Evans 2014
The Best of Tony Evans 2014 is a collection of some of Dr. Evans most powerful messages of the year.
Request your copy
of
The Best of Tony Evans 2014
CD Series for your gift of any amount.