Conexión Vertical - 1 de Abril

Las comparaciones, ¿son odiosas?
La Biblia, nos relata acerca Caín y Abel, ambos hermanos hicieron ofrenda, pero la de Caín no agradó a Dios. La historia continúa con la reacción de Caín en contra de su hermano, al cual termina asesinando. Por que lo hizo?, Por que dirigió su enojo contra su hermano y no contra Dios o contra él mismo tal vez por haber fallado? Seguramente porque se llenó de envidia, porque la ofrenda de su hermano, sí había logrado agradar a Dios.
Pensando en esta historia, reflexionaba sobre el tema de las comparaciones y sus consecuencias. Cuantas veces los padres, comparan a sus hijos. Por ejemplo le dicen: Por que no eres como tu hermano?, a él si le va bien en la escuela. O cosas peores aún, como tú nunca llegarás a nada, el inteligente es tu hermano.
Sabemos a nivel espiritual, el poder que tienen las palabras. La Biblia dice que podemos usar de ellas para bendecir o maldecir y a veces, terminamos afectando la autoestima de nuestros hijos. En estos casos, además de todo lo que puede afectar las palabras a nivel personal, también va generando una tensión entre hermanos. Esto y a veces sin darse cuenta, es generado por los propios padres, que comenzaron con las comparaciones.
Para que esto no suceda, una buena idea sería, evitar caer en la trampa de la comparación. Por qué hablamos de trampa? porque cuando uno comienza a compararse, eso equivale a entrar en un callejón sin salida.
Si nos comparamos y nosotros nos sentimos mejores o superiores, rápidamente entrará en nosotros el orgullo y la vanagloria, con todos los aspectos relacionados que vienen con estos sentimientos.
Si en la comparación, en cambio, nos sentimos inferiores, nos veremos invadidos, por sentimientos de frustración, auto-conmiseración, amargura y envida, con efectos igualmente nocivos para nuestra vida espiritual.
Por lo cual, debemos estar atentos, para no caer en la trampa de compararnos con otros. Dios nos trata personalmente a cada uno, por lo cual ninguna vida es comparable con la de los demás. Lo que no has logrado hasta hoy, no quiere decir que no lo alcanzarás, simplemente que aún no has llegado.
Hay que tener en cuenta, que cada persona fue creada única e irrepetible, por Dios, por lo cual los tiempos y procesos son personales. Lo que para uno es muy fácil, tal vez para otro, significa un proceso más largo o complejo.
Como dice un pastor muy conocido: Fuiste creado como un original, no vivas como una copia.
Hebreos 11:4 "Por la fe Abel ofreció a Dios más excelente sacrificio que Caín, por lo cual alcanzó testimonio de que era justo, dando Dios testimonio de sus ofrendas; y muerto, aún habla por ella".
Daniel Zangaro
Coordinador Departamento RDS
El siguiente crédito, por obligación, es requerido para su uso por otras fuentes: Este artículo fue producido por Radio Cristiana CVCLAVOZ.
Haz clic aquí para visitar la página de CVC La Voz
Si necesitas oración o consejería, CVC La Voz tiene personas preparados para recibir ayuda. CVC La Voz Radio Cristiana provee contenido dinámico y relevante diariamente para impactar vidas. Tenemos un grupo dedicado de consejeros listo para recibir su petición de oración, comentarios o preguntas.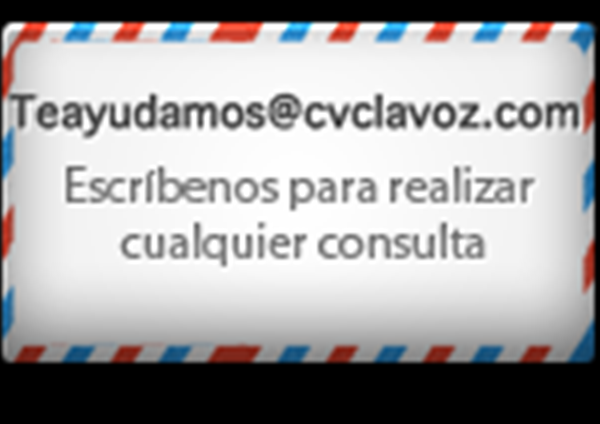 Recently on Conexión Vertical
Follow us on Facebook
Get Conexión Vertical devotionals directly to your News Feed.
Have something to say about this article? Leave your comment via Facebook below!
advertise with us
Example: "Gen 1:1" "John 3" "Moses" "trust"
Advanced Search
Listen to Your Favorite Pastors