Conexión Vertical - 1 de Mayo

Triunfador
Si hiciéramos una encuesta para saber lo que es un "Triunfador" habrían tantas respuestas como encuestados.
Pero muchos coincidirían en que para ser un triunfador hay que ser una persona de éxito, que deberían tener todo aquello con lo que sueñan, ser perfectos, sin cometer equivocaciones, siempre seguros de lo que quieren y hacia dónde van, ser amados por todos y, hasta en algunos casos, admirados y por qué no, hasta podrían ser estrellas de cine o millonarios. Tener todas sus metas alcanzadas, con una vida llena de sonrisas y de momentos de alegría desbordante, entre otras muchas cosas.
Lamentablemente no es así. Todos nos equivocamos, dudamos, sufrimos, tenemos problemas y hasta a veces hemos extraviado la brújula de nuestra vida. Todos, inclusive aquellos que parecen tenerlo todo.
La buena noticia es que un triunfador no es necesariamente quien cumpla todos sus sueños o quien nunca tiene problemas.
Los verdaderos triunfadores son aquellas que se equivocan pero saben rectificar sus errores, tienen problemas pero saben que Dios es más grande que ellos y que los librará de cualquier cosa. Son aquellos que caen pero se levantan de la mano de Dios, se equivocan pero vuelven a intentarlo con la mirada puesta en la Cruz. No tienen todas las respuestas pero conocen de forma personal a aquel que todo lo sabe, y pueden permanecer en paz a pesar de las tormentas.
Una vida perfecta no está basada en las circunstancias que vivimos, sino en las lecciones que sacamos de cada experiencia, de que cada problema que nos va formando para ser quienes Dios quiere que seamos. Se trata, sobre todo, de en quién creemos, en quien confiamos y toda persona que sepa esto, puede considerarse un verdadero vencedor.
¿Tienes problemas pero sigues en la brecha? ¿Has caído y te has vuelto a levantar? ¿Fallaste pero volviste a intentarlo? Pues bien, entonces, eres un triunfador.
Existen tantos triunfadores que no se dan cuenta de cuántas victorias han alcanzado y viven sintiéndose derrotados.
Deja de sentir que eres un fracasado, que te han derrotado o que tu vida no sirve para nada. Recuerda lo que Dios te dice:
"No temas, porque yo estoy contigo; no desmayes, porque yo soy tu Dios que te esfuerzo; siempre te ayudaré, siempre te sustentaré con la diestra de mi justicia". Isaías 41:10
No abandones, no desistas, Dios está contigo y en Él eres más que vencedor! Levántate y vive como un verdadero triunfador.
Autora: Ana María Frege Issa
Coordinadora Call Center
Tags: Triunfar, vencer, derrota, victoria, triunfar, éxito
Haz clic aquí para visitar la página de CVC La Voz
Si necesitas oración o consejería, CVC La Voz tiene personas preparados para recibir ayuda. CVC La Voz Radio Cristiana provee contenido dinámico y relevante diariamente para impactar vidas. Tenemos un grupo dedicado de consejeros listo para recibir su petición de oración, comentarios o preguntas.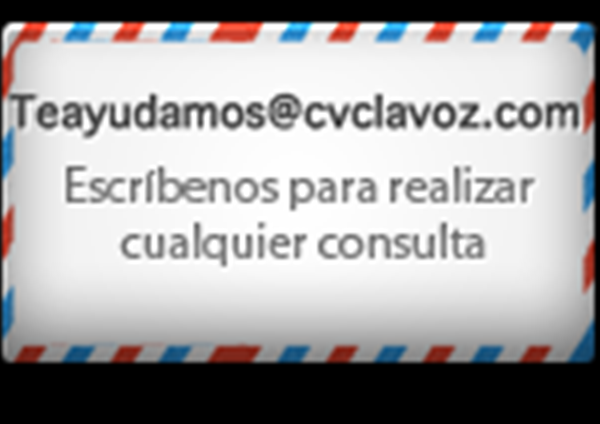 Recently on Conexión Vertical
Follow us on Facebook
Get Conexión Vertical devotionals directly to your News Feed.
Have something to say about this article? Leave your comment via Facebook below!
advertise with us
Example: "Gen 1:1" "John 3" "Moses" "trust"
Advanced Search
Listen to Your Favorite Pastors