Conexión Vertical - 12 de Mayo

¿Con los oídos tapados?
"Acerca de esto tenemos mucho que decir, y difícil de explicar, por cuanto os habéis hecho tardos para oír." Hebreos 5:11
Pablo en esta oportunidad hace un reclamo a la iglesia, menciona que la iglesia cerró sus oídos a Dios, es decir, dejaron de escucharlo, de prestarle atención a sus palabras y automáticamente dejaron de crecer. Te has conformado con lo que tienes y perdiste ese hambre y sed de conocer y escuchar la Palabra de Dios?
"Porque debiendo ser ya maestros, después de tanto tiempo, tenéis necesidad de que se os vuelva a enseñar cuáles son los primeros rudimentos de las palabras de Dios; y habéis llegado a ser tales que tenéis necesidad de leche, y no de alimento sólido." Hebreos 5:12
Y este era el reclamo de Pablo! En vez de ser obedientes, caemos en los mismos errores, y necesitamos que una y otra vez, nos vuelvan a enseñar lo mismo. Hasta nos tienen que empujar para leer la Biblia o para orar! Seguimos en el mismo lugar, seguimos gateando cuando ya deberíamos caminar y estar viviendo lo que Dios tiene para nosotros! Andamos retrasados!
Que hace Dios?…"Despierta además el oído de ellos para la corrección, y les dice que se conviertan de la iniquidad" Job 36:10.
Dios no te dejará estancado! Dios volverá a captar tu atención, para que vuelvas a tener ese amor por su palabra. Solo las ovejas que no reconocen la voz de su pastor, son aquellas que se pierden y corren los mayores peligros. Dios no quiere verte enfermo, en derrota o en peligro. Por lo tanto, por su por amor y misericordia nos despertará el oído, la pregunta es…
Como lo hará? "…y en la aflicción despertará su oído" Job 36:15
A veces Dios va a sacudir el barco donde te encuentras para que despiertes, para que comiences a andar en su voluntad, y vuelvas a obedecer! Como hizo con Jonás, pero todo esto por amor a ti. Sabemos que no es fácil cuando esto pasa, pero estamos aquí como una familia para apoyarte! No olvides que cuentas con nosotros!!!
Recuerda: "Vivir menos de lo que Dios nos llamo a ser, es tomar en poco el sacrificio de Jesús"
Shirley Chambi
Asistente RDS
CVC la voz
Haz clic aquí para visitar la página de CVC La Voz
Si necesitas oración o consejería, CVC La Voz tiene personas preparados para recibir ayuda. CVC La Voz Radio Cristiana provee contenido dinámico y relevante diariamente para impactar vidas. Tenemos un grupo dedicado de consejeros listo para recibir su petición de oración, comentarios o preguntas.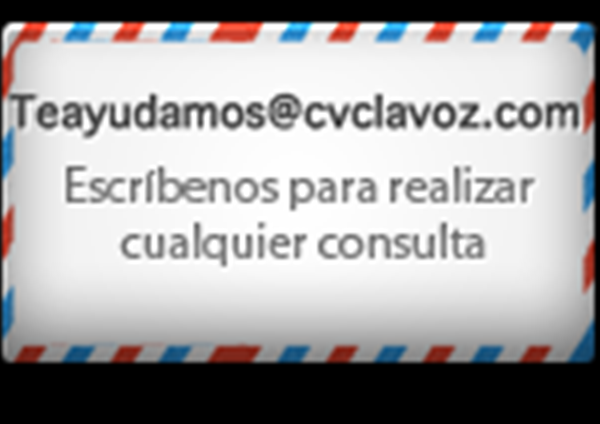 Recently on Conexión Vertical
Follow us on Facebook
Get Conexión Vertical devotionals directly to your News Feed.
Have something to say about this article? Leave your comment via Facebook below!
advertise with us
Example: "Gen 1:1" "John 3" "Moses" "trust"
Advanced Search
Listen to Your Favorite Pastors