Conexión Vertical - 10 de Octubre

¡Ahora tú!
Dos hermanitos de cinco y diez años, provenientes de un barrio pobre, sucios, harapientos y con mucha hambre, iban por la ciudad pidiendo un poco de comida por las casas. Las respuestas de los que les abrían la puerta de sus casas eran: "Váyanse a trabajar y no molesten", "Aquí no hay nada, ¡pordioseros!" Sin embargo una señora muy atenta les dijo: "Voy a ver si tengo algo para ustedes… ¡pobrecitos!", y volvió con una latita de leche.
Ambos niños se sentaron en la acera muy felices; el más pequeño le dijo al de diez años: "tú eres el mayor, así que toma primero". Y lo miraba con sus dientes blancos, con la boca medio abierta, relamiéndose. ¡Si vieran al mayor mirando de reojo al pequeñito! Se llevaba la lata a la boca y solo simulaba que bebía, pero apretaba los labios fuertemente para que no le entrara ni una sola gota de leche en la boca. Después, extendiéndole la lata, le decía a su hermanito: "Ahora es tu turno… ¡sólo un poquito!".
Y el hermanito, dando un trago exclamaba: "¡Está sabrosa!"… "Ahora yo", le decía el mayor, y de nuevo, llevándose la latita a la boca, fingía que bebía, pero no tomaba nada.
"Ahora tú", "Ahora yo", "Ahora tú", "Ahora yo" y después de cuatro o cinco tragos, el pequeño, se había tomado toda la leche… ¡él solito!
El mayor comenzó a cantar y a jugar fútbol con la lata vacía de leche. Estaba radiante, con el estómago vacío, pero con el corazón rebosante de alegría. Brincaba con la naturalidad de quien no hace nada extraordinario. O mejor aún, con la naturalidad de quien está habituado a hacer cosas extraordinarias sin darle la mayor importancia.
¡Cuántas sonrisas tendríamos si fuéramos un poco más como aquel niño! y vivir realmente lo que dice Romanos 12:10 "Amaos los unos a los otros con amor fraternal; en cuanto a honra, prefiriéndoos los unos a los otros."
Dios nos manda amar al prójimo como el nos ama; mira a tu alrededor, tal vez no tengas mucho para dar, pero sí tienes lo más importante para compartir, esto es el amor de Dios y la palabra de esperanza que muchos ansían, dale ese alimento al que lo necesita.
Habla, escucha, comparte, abraza a quien lo necesite, mira y actúa con amor para aportar con la felicidad de tu prójimo.
"Un amigo es siempre leal, y un hermano nace para ayudar en tiempo de necesidad." Proverbios17:17.

Telma Céspedes
Haz clic aquí para visitar la página de CVC La Voz
Si necesitas oración o consejería, CVC La Voz tiene personas preparados para recibir ayuda. CVC La Voz Radio Cristiana provee contenido dinámico y relevante diariamente para impactar vidas. Tenemos un grupo dedicado de consejeros listo para recibir su petición de oración, comentarios o preguntas.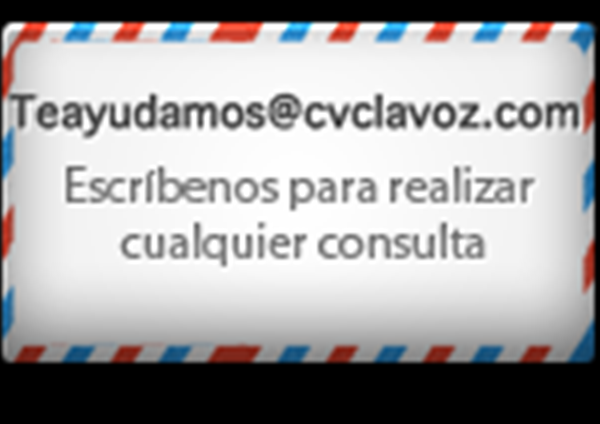 Recently on Conexión Vertical
Follow us on Facebook
Get Conexión Vertical devotionals directly to your News Feed.
Have something to say about this article? Leave your comment via Facebook below!
advertise with us
Example: "Gen 1:1" "John 3" "Moses" "trust"
Advanced Search
Listen to Your Favorite Pastors