Conexión Vertical - 13 de Diciembre

Ya sea por el rechazo que hemos sufrido por parte de nuestros padres o amigos, o bien por insultos, humillaciones, o heridas del pasado, nuestra autoestima pudiera estar dañada. Los síntomas son claros: sentimientos de inferioridad, menosprecio, pensar que todo lo que uno hace o tiene para decir no es importante…
Esto me recuerda el cuento del "Patito Feo" "Todo comienza cuando por error, aparece un huevo de cisne en una granja de patos. Al nacer, fueron evidentes las diferencias con sus "hermanos", por lo cual y por ser distinto lo consideraban feo... Cuando trata de compartir con sus "hermanos" estos lo rechazan, incluso la mamá del pato, lo repudia y se avergüenza de él. Por lo cual el pequeño cisne se va de su casa...
Un día, mientras lloraba en el estanque, el reflejo de su imagen en el agua distorsiona aún más su figura, lo que hacía mas desconsolado su llanto. En ese momento, una mamá cisne pasa por ahí, oye llorar al pequeño cisne, se llena de ternura, se acerca y lo invita a unirse a su familia; el "patito feo" al ver a sus nuevos hermanos se da cuenta que no es un pato como creía; sino un hermoso cisne."
Si te sientes como este patito feo, tienes que saber que el diablo ha trabajado todo este tiempo para destruir tu identidad, él no quiere que sepas quien eres, porque cuando lo hagas comenzarás a vivir el propósito de Dios en tu vida. En lugar de andar decepcionado, puedes ir por la vida como un hermoso cisne, porque de la misma manera que pienses de ti, así vas a actuar, si piensas que eres un perdedor, vas a perder siempre, pero si te plantas sabiendo quien eres en Cristo, tus hechos demostrarán esta íntima convicción.
Antes que te formase en el vientre te conocí, y antes que nacieses te santifiqué, te di por profeta a las naciones. Jeremías 1:2
Recuerdo que en una ocasión una amiga dijo; "Soy una basura" y nuestro pastor en ese tiempo, la apartó en un lugar distante para decirle; "¿Acaso crees que Dios hace basura?"Dios te amó, aun desde cuando estabas en el vientre de tu madre, te escogió tal como eres ¡No eres cualquier cosa, eres hijo de Dios! Él no mira como el hombre, Dios mira algo grande en ti.
"Dios hace mucho con poco, todo con nada y cosa tremenda contigo"
No eres un patito feo ¡Empieza a amarte a ti misma porque tú vales!
Shirley Chambi
Haz clic aquí para visitar la página de CVC La Voz
Si necesitas oración o consejería, CVC La Voz tiene personas preparados para recibir ayuda. CVC La Voz Radio Cristiana provee contenido dinámico y relevante diariamente para impactar vidas. Tenemos un grupo dedicado de consejeros listo para recibir su petición de oración, comentarios o preguntas.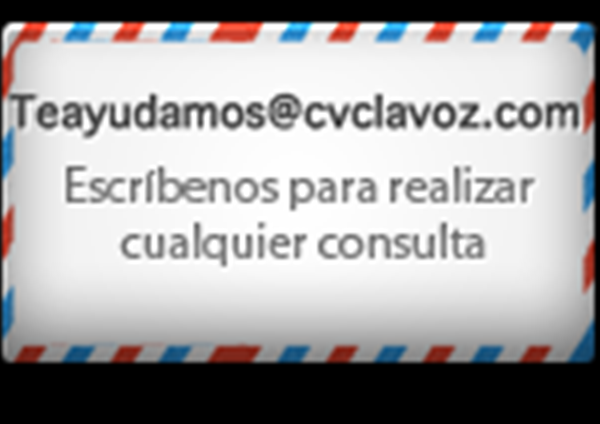 Recently on Conexión Vertical
Follow us on Facebook
Get Conexión Vertical devotionals directly to your News Feed.
Have something to say about this article? Leave your comment via Facebook below!
advertise with us
Example: "Gen 1:1" "John 3" "Moses" "trust"
Advanced Search
Listen to Your Favorite Pastors