Conexión Vertical - 13 de Marzo

Te Sorprenderá
"Después Dios dijo: «Que de la tierra brote vegetación: toda clase de plantas con semillas y árboles que den frutos con semillas. Estas semillas producirán, a su vez, las mismas clases de plantas y árboles de los que provinieron»; y eso fue lo que sucedió." Entonces Dios dijo: «Que las aguas se colmen de peces y de otras formas de vida. Que los cielos se llenen de aves de toda clase». Entonces Dios dijo: «Que la tierra produzca toda clase de animales, que cada uno produzca crías de la misma especie: animales domésticos, animales pequeños que corran por el suelo y animales salvajes»; y eso fue lo que sucedió. - Génesis 1:11, 14, 24 NTV
La diversidad biológica en el mundo siempre llamó mi atención y según la BBC Mundo se calculan 8,7 millones el número de especies del planeta, de las cuales solo se conocen 1.3 millones según el autor del estudio.
Saber que solo se conoce una pequeña porción, hace pensar ¿Qué especies más podrían existir, si ya hay tanta diversidad? A lo mejor el hombre no podrá descubrir totalmente lo que tiene alrededor del mundo, pero sí al quien lo creó; eso me parece formidable y único.
Es justamente la diversidad de Dios que opera en cuanto a las respuestas que da a quienes le buscan, sin perder su esencia u objetivo, por ejemplo: la mayoría ha llegado a tener una relación con él en diferentes circunstancias, parecidas en algunos detalles pero nunca iguales. También cuando uno escucha diferentes testimonios de cómo conocieron a sus conyugues y como Dios les confirmó la decisión para llegar a ser un matrimonio, uno se sorprende.
Pero pasa, que muchas veces al escuchar un testimonio o un relato similar a la circunstancias de uno, creemos que será igual la respuesta que Dios nos dará, y al ver que no sucede nos sentimos frustrados, y muchas veces pensamos que Dios no nos quiere.
Sin duda, como indiqué anteriormente el objetivo o su esencia es la misma pero la manera de proceder de Dios no, porque somos seres únicos, con diferentes reacciones, pasado, carácter y con diferentes tareas para cumplir los planes de Dios.
Ten por seguro que Dios quien nos conoce perfectamente, dará respuesta a tu necesidad de manera sorprendente, solo sigue manteniendo tu fe, confianza y sobre todo sigue mantente fiel a él. Haz lo que la Palabra dice Mateo 6:33 "Busquen el reino de Dios por encima de todo lo demás y lleven una vida justa, y él les dará todo lo que necesiten." Pon en práctica Su Palabra y lo demás deja que Dios lo acomode.
¡Estamos en las mejores manos, en manos creativas y confiables!
Soraida Fuentes
Haz clic aquí para visitar la página de CVC La Voz
Si necesitas oración o consejería, CVC La Voz tiene personas preparados para recibir ayuda. CVC La Voz Radio Cristiana provee contenido dinámico y relevante diariamente para impactar vidas. Tenemos un grupo dedicado de consejeros listo para recibir su petición de oración, comentarios o preguntas.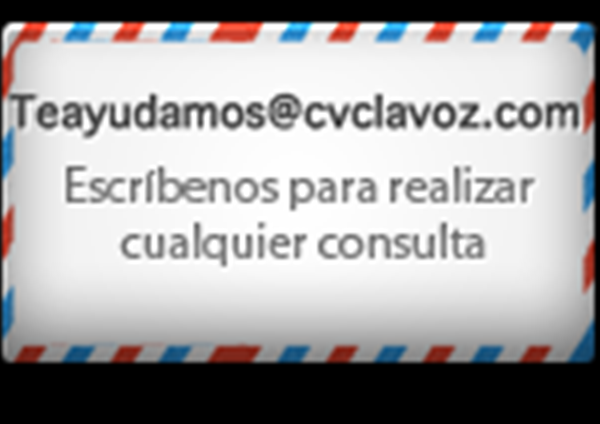 Recently on Conexión Vertical
Follow us on Facebook
Get Conexión Vertical devotionals directly to your News Feed.
Have something to say about this article? Leave your comment via Facebook below!
advertise with us
Example: "Gen 1:1" "John 3" "Moses" "trust"
Advanced Search
Listen to Your Favorite Pastors