Conexión Vertical - 14 de Noviembre

Levanta tus manos
Ana María Frege Issa
Todos hemos librado batallas, unas más grandes, otras pequeñas, cortas o largas, pero todos sabemos lo que es estar en medio de una lucha.
Sin importar su tamaño todas parecen no tener fin. Empezamos con todas nuestras fuerzas, con la fe intacta, repetimos todos los versículos que sabemos de memoria y cantamos todas las alabanzas que conocemos, seguros de que somos fuertes para hacer frente a lo que vivimos.
Pero al cabo de un tiempo, no importa cuánto dure la prueba, nuestras fuerzas empiezan a menguar, nos cansamos, ya no nos quedan versículos que parezcan animarnos, preferimos ya no cantar porque desentonamos y porque, honestamente, ¿quién quiere cantar cuando tiene problemas?
En Éxodo 17: 8 -15 se relata la guerra de Israel contra Amelec. Lo increíble de esta historia es que dice que cuando Moisés levantaba las manos Israel ganaba la batalla y cuando las bajaba era Amelec quien obtenía el triunfo. Entonces, para poder ganar la batalla Aaron y Hur sostuvieron los brazos de Moisés hasta que llegó la victoria.
Cuando levantamos los brazos hacia Dios le entregamos las batallas. Es una forma de rendirnos y reconocer Su poderío sobre nuestras vidas, de saber que todo estará bien, que es una victoria asegurada.
Innegablemente es muy duro levantar las manos cuando estamos en una prueba, porque aunque ésta no sea física, nuestras fuerzas parecen abandonarnos al cabo de un tiempo. Pero, ¿sabes? Aunque tu canto suene desentonado porque la tristeza y la preocupación te agobian, canta, canta con todo tu corazón y levanta tus manos, ríndete a Él y verás cómo Dios es el que libra tu batalla, Él es tu estandarte y va delante de ti. ¿Por qué temer?
"Él redimirá en paz mi alma de la guerra contra mí, Aunque contra mí haya muchos". Salmos 55:18
Haz clic aquí para visitar la página de CVC La Voz
Si necesitas oración o consejería, CVC La Voz tiene personas preparados para recibir ayuda. CVC La Voz Radio Cristiana provee contenido dinámico y relevante diariamente para impactar vidas. Tenemos un grupo dedicado de consejeros listo para recibir su petición de oración, comentarios o preguntas.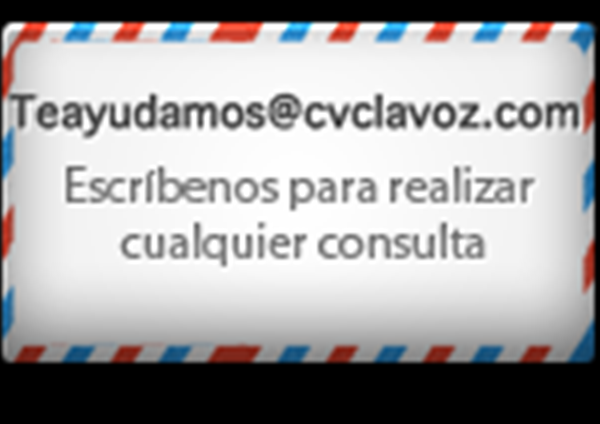 Recently on Conexión Vertical
Follow us on Facebook
Get Conexión Vertical devotionals directly to your News Feed.
Have something to say about this article? Leave your comment via Facebook below!
advertise with us
Example: "Gen 1:1" "John 3" "Moses" "trust"
Advanced Search
Listen to Your Favorite Pastors