Conexión Vertical - 17 de Marzo

No hay muralla que te detenga
Las murallas han estado presentes a lo largo de la historia de la humanidad como una forma de defensa o protección de un territorio. Pueden ser de gran magnitud como la Gran Muralla China o más pequeñas, pero sin importar su tamaño, sin duda alguna, delimitan espacios e impiden la comunicación.
El libro de Josué, en el capítulo 6, nos relata la toma de Jericó. Dios le había entregado esta ciudad al pueblo de Israel pero entre ellos y la ciudad había una muralla. El relato dice que Jericó estaba cerrada y que nadie entraba ni salía de ella. Entonces, Dios ordenó a Josué dar siete vueltas a la ciudad, una vuelta por día. El séptimo día, al terminar de dar las vueltas, al sonar de los cuernos el pueblo debía gritar a gran voz y los muros caerían.
El relato dice que el pueblo obedeció y los siete sacerdotes iban tocando bocinas delante del arca del pacto mientras que el pueblo iba en silencio atrás.
¿Imaginas lo que debe haber sido para los enemigos escuchar todos los días el sonido de las bocinas y los pasos del pueblo marchando alrededor?
Al séptimo día, al terminar de dar las vueltas, tocaron las bocinas y el pueblo gritó a gran voz y los muros cayeron.
Muchas veces, en nuestras vidas las murallas no son físicas. Dios nos promete algo pero alrededor de aquello hay grandes muros que parecen imposibles de pasar. Sin importar lo altos, anchos o gruesos que sean ni de qué material estén hechos, si Dios ya te entregó algo no habrá muralla lo suficientemente fuerte para detenerte.
Algo interesante en este relato es que dice que el pueblo obedeció los mandamientos de Dios y dieron las vueltas en silencio, solamente gritaron cuando había llegado el tiempo. Pero además, llevaban con ellos el Arca de Jehová en medio de ellos.
No importa si son siete vueltas las que ya has dado o son más. Dios tiene un tiempo para mostrar su gloria, no con todos usa la misma fórmula y nuestro tiempo no es Su tiempo. Pero mientras estás esperando que esas murallas caigan no reclames, no murmures, espera quietamente en Dios, haz lo que te pide y lleva contigo, en tu corazón, sus mandamientos, atesora Su palabra y verás cómo al final de las vueltas glorificarás a Dios y esos muros caerán.
Espera en Dios y verás grandes milagros. Él es quien te defiende, quien pelea por ti y nunca te desamparará.
"A causa del poder del enemigo esperaré en ti, Porque Dios es mi defensa". Salmos 59:9
Autora: Ana María Frege I.
Coordinadora Call Center
El siguiente crédito, por obligación, es requerido para su uso por otras fuentes: Este artículo fue producido por Radio Cristiana CVCLAVOZ.
Haz clic aquí para visitar la página de CVC La Voz
Si necesitas oración o consejería, CVC La Voz tiene personas preparados para recibir ayuda. CVC La Voz Radio Cristiana provee contenido dinámico y relevante diariamente para impactar vidas. Tenemos un grupo dedicado de consejeros listo para recibir su petición de oración, comentarios o preguntas.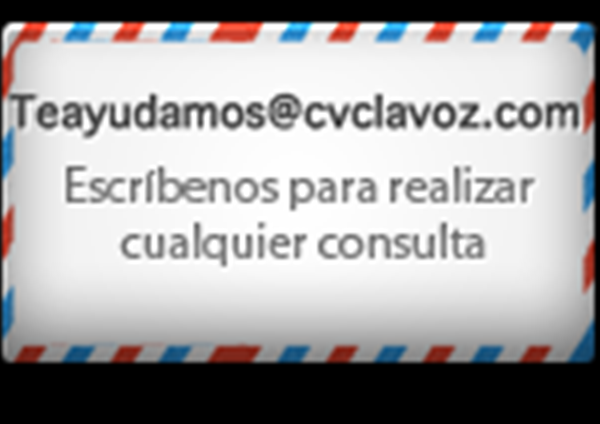 Recently on Conexión Vertical
Follow us on Facebook
Get Conexión Vertical devotionals directly to your News Feed.
Have something to say about this article? Leave your comment via Facebook below!
advertise with us
Example: "Gen 1:1" "John 3" "Moses" "trust"
Advanced Search
Listen to Your Favorite Pastors