Conexión Vertical - 16 de Octubre

El dinero no lo es todo
Y les dijo: "Mirad, guardaos de toda avaricia, porque la vida del hombre no consiste en la abundancia de los bienes que posee". - Lucas 12:15
Un dignatario se le aceró a Jesús y le preguntó: - Maestro ¿qué haré para heredar la vida eterna?
Jesús le dijo: Guarda los mandamientos. "No adulterarás; no matarás; no hurtarás; no dirás falso testimonio; honra a tu padre y a tu madre."
Él le dijo: - Todo esto lo he guardado desde mi juventud.
Al oír esto, Jesús le dijo: - Aún te falta una cosa: vende todo lo que tienes y dalo a los pobres, y tendrás tesoro en el cielo; y ven, sígueme.
Entonces él, oyendo esto, se puso muy triste porque tenía muchas posesiones.
Posiblemente te encuentras en la misma situación que ésta persona y no sabes si seguir a Dios y obedecerlo o seguir luchando y trabajando por alcanzar tus metas personales y profesionales. Déjame decirte que nada tiene más valor que servir a Dios y hacer su voluntad, por experiencia propia puedo decirte que no hay cosa más gratificante en la vida que poder ser usado(a) por Dios para bendecir a otras personas.
Posiblemente no tengas todo lo que desees, pero te aseguro que tendrás todo lo que necesites, porque Dios tiene planes de bien para tu vida y promete jamás te desampararte.
Recuerda que Dios a quien llama, capacita. En ningún momento sientas que no estás preparado(a), que eres muy joven o muy mayor para trabajar en su obra. No permitas que nada te impida cumplir el propósito con el cual fuiste creado(a). Lo que Él ve es tu corazón y la disposición que hay en ti para servirlo. Todo lo demás lo recibirás por gracia.
Ya no sigas retrasando tu bendición, decídete seguir a Jesús y Él se encargará de conceder los anhelos de tu corazón.
Pues el amor al dinero es la raíz de toda clase de mal; y algunas personas, en su intenso deseo por el dinero, se han desviado de la fe verdadera y se han causado muchas heridas dolorosas. 1ª Timoteo 6:10 (NTV)
Brisna Bustamante S.
Sub Coordinadora Call Center
Haz clic aquí para visitar la página de CVC La Voz
Si necesitas oración o consejería, CVC La Voz tiene personas preparados para recibir ayuda. CVC La Voz Radio Cristiana provee contenido dinámico y relevante diariamente para impactar vidas. Tenemos un grupo dedicado de consejeros listo para recibir su petición de oración, comentarios o preguntas.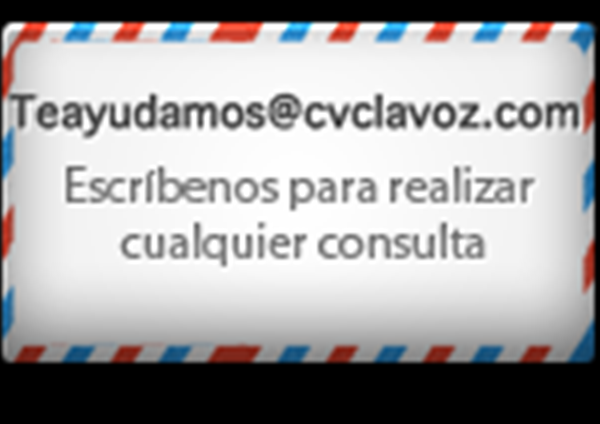 Recently on Conexión Vertical
Follow us on Facebook
Get Conexión Vertical devotionals directly to your News Feed.
Have something to say about this article? Leave your comment via Facebook below!
advertise with us
Example: "Gen 1:1" "John 3" "Moses" "trust"
Advanced Search
Listen to Your Favorite Pastors