Conexión Vertical - 18 de Junio


"LA PROMESA"
Si hacemos una encuesta podríamos comprobar que todos hemos sufrido la decepción y el dolor de una promesa rota y todos, en alguna oportunidad, hemos faltado a nuestra palabra y no porque seamos malos sino porque no hemos podido hacer o mantener aquello que queríamos por las diferentes circunstancias que se nos han presentado. Sea cual fuere la razón por la que una promesa fue rota, siempre hay un corazón herido, una persona decepcionada, confianza traicionada…
Muchas veces, por las experiencias que hemos atravesado ya no creemos en las promesas de nadie y es perfectamente entendible que sea así pero hay alguien en quien todavía puedes confiar, que promete que pase lo que pase no se apartará su misericordia ni se quebrantará el pacto de su paz.
Josué fue un gran ejemplo de lucha, Dios le manda a esforzarse y ser valiente para prosperarlo y darle la tierra que le había prometido darle a sus padres.
A diferencia de sus antepasados, Josué le creyó a Dios desde que fue con los espías a ver la tierra. A él no le importaron los gigantes ni las dificultades, simplemente le creyó a Dios. No fue fácil, sin duda alguna, pero Josué entró en la tierra prometida.
Dios nos promete que aunque todo esté mal y veamos como todo a nuestro alrededor se desmorona, Él seguirá mostrándonos su misericordia.
No es necesario entender a Dios ni lo que hace, basta con que confiemos en que sus planes son mejores que los nuestros y que Él ha prometido estar con nosotros siempre.
"Porque los montes se moverán, y los collados temblarán, pero no se apartará de ti mi misericordia, ni el pacto de mi paz se quebrantará, dijo Jehová, el que tiene misericordia de ti". Isaías 54:10
Ana María Frege Issa
Coordinadora Call Center
¿Que piensas de este devocional, fue de bendición para tu vida? Envía tus comentarios a teayudamos@cvclavoz.com
Haz clic aquí para visitar la página de CVC La Voz
Si necesitas oración o consejería, CVC La Voz tiene personas preparados para recibir ayuda. CVC La Voz Radio Cristiana provee contenido dinámico y relevante diariamente para impactar vidas. Tenemos un grupo dedicado de consejeros listo para recibir su petición de oración, comentarios o preguntas.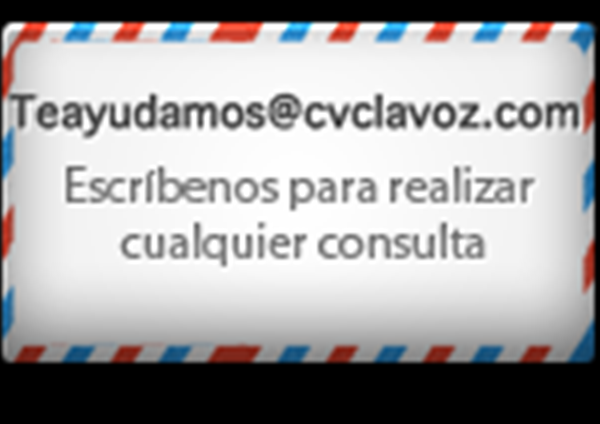 Recently on Conexión Vertical
Follow us on Facebook
Get Conexión Vertical devotionals directly to your News Feed.
Have something to say about this article? Leave your comment via Facebook below!
advertise with us
Example: "Gen 1:1" "John 3" "Moses" "trust"
Advanced Search
Listen to Your Favorite Pastors