Conexión Vertical - 20 de Octubre


Es cuestión del corazón
"Y Jehová respondió a Samuel: No mires a su parecer, ni a lo grande de su estatura, porque yo lo desecho; porque Jehová no mira lo que mira el hombre; pues el hombre mira lo que está delante de sus ojos, pero Jehová mira el corazón". - 1 Samuel 16:7,
El Corazón son las intenciones, aquello oculto que solo la persona y Dios conocen. El Corazón guarda el perdón o conserva el rencor. El Corazón es lo que guía a la persona a tomar las decisiones más importantes de su vida en los momentos más cruciales que enfrenta. El Corazón es lo que define si la persona vivirá una vida íntegra o se dejará influenciar por las propuestas ociosas de la sociedad.
El corazón es el mismo ser, la esencia del individuo, la fuente de sus pensamientos, acciones y deseos. El corazón es lo que amarás hasta la muerte o lo que te hará huir de una persona. El corazón es donde realmente se esconde el verdadero valor del hombre, el corazón es la caja fuerte del alma.
Para Jesús el Corazón siempre fue más importante que las palabras prometedoras de sus seguidores, que las buenas obras de los hombres nobles de su época y aún que el mucho conocimiento de la ley que poseían los religiosos de aquel entonces.
Hoy el corazón es igual de importante para nuestro Dios y debe serlo para nosotros. ¿Te has preguntado qué es lo que buscas en una pareja?, ¿estás mirando a su corazón como lo hace Dios, o estas dejándote llevar por lo físico o lo externo? Y ¿qué tal en la vida de nuestros hijos? ¿Estamos alimentado su corazón, o estamos enfocados en aquellas cosas que a los ojos de Dios no tienen trascendencia alguna? Y si miramos nuestra vida, ¿cuándo Dios mira nuestro corazón, qué es lo que encuentra allí?
"Crea en mí, Oh Dios, un corazón limpio, y renueva un espíritu recto dentro de mí". Salmo 51:10, Estas son las palabras del rey David, un hombre que tuvo un corazón de acuerdo al corazón de Dios, y hoy también pueden ser tus palabras y el anhelo de tu vida.
Dios, que nuestro esfuerzo, no se pierda en palabrería u obras vacías, sino que podamos entender que tu miras nuestro corazón y estás listo para trabajar en el. Ayúdanos a cuidar el corazón de los seres que amamos, a darle el valor que tú le das, y a cuidar nuestro corazón como un tesoro a entregar en tus manos.
Dilean Cañas
Haz clic aquí para visitar la página de CVC La Voz
Si necesitas oración o consejería, CVC La Voz tiene personas preparados para recibir ayuda. CVC La Voz Radio Cristiana provee contenido dinámico y relevante diariamente para impactar vidas. Tenemos un grupo dedicado de consejeros listo para recibir su petición de oración, comentarios o preguntas.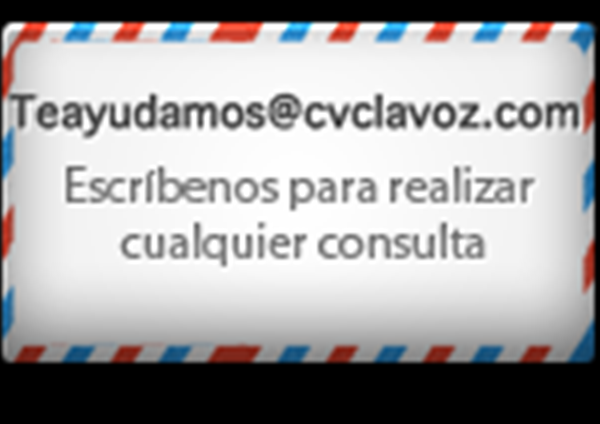 Recently on Conexión Vertical
Follow us on Facebook
Get Conexión Vertical devotionals directly to your News Feed.
Have something to say about this article? Leave your comment via Facebook below!
advertise with us
Example: "Gen 1:1" "John 3" "Moses" "trust"
Advanced Search
Listen to Your Favorite Pastors