Conexión Vertical - 19 de Marzo

Persevera
Había un juez en cierta ciudad, que no tenía temor de Dios ni se preocupaba por la gente. Una viuda de esa ciudad acudía a él repetidas veces para decirle: "Hágame justicia en este conflicto con mi enemigo".
Durante un tiempo, el juez no le hizo caso, hasta que finalmente se dijo a sí mismo: "No temo a Dios ni me importa la gente, pero esta mujer me está volviendo loco. Me ocuparé de que reciba justicia, ¡porque me está agotando con sus constantes peticiones!".
Entonces el Señor dijo: «Aprendan una lección de este juez injusto. Si hasta él dio un veredicto justo al final, ¿acaso no creen que Dios hará justicia a su pueblo escogido que clama a él día y noche? ¿Seguirá aplazando su respuesta?
Esta historia corresponde a una parábola que se encuentra en Lucas 18: 1-7 (NTV)
Muchas veces llevamos años pidiéndole algo a Dios. Puedes haber estado orando por un milagro de sanidad, financiero, restauración de tu familia o como la misma parábola dice, puedes haber estado pidiendo que el Señor haga justicia.
No importa lo que hayas estado pidiendo. Dios responderá tu oración. Si un juez injusto, que no temía a Dios ni le importaba la gente, escuchó el clamor de esa viuda, ¿será posible que tu Creador, quien te ama más de lo que puedas imaginar, que te cuida como a la niña de sus ojos, que tiene planes de bien para tu vida no vaya a escuchar tus súplicas?
No dejes de orar, persevera como la viuda de la parábola. Dios nunca deja de responder una oración, inclusive, muchas veces, el silencio de parte de Dios puede llegar a ser una respuesta pero para saberlo tienes que estar en constante comunicación con Él.
Dios conoce nuestros anhelos y necesidades. Él sabe todo acerca de nosotros, pero espera que podamos ir confiadamente ante su presencia y depositar en sus manos nuestros sueños y también los problemas que nos aquejan. Pero sobretodo, nuestro Padre quiere que descansemos seguros de que Él tiene cuidado de nosotros.
Recuerda que Dios no siempre nos da lo que queremos, sino aquello que necesitamos y que es lo mejor para nosotros.
¿Y acaso Dios no hará justicia a sus escogidos, que claman a él día y noche? ¿Se tardará en responderles? Lucas 18:7
Autora: Ana María Frege Issa
Coordinadora Call Center
Si Deseas leer otros devocionales como este, presiona AQUI
El siguiente crédito, por obligación, es requerido para su uso por otras fuentes: Este artículo fue producido por Radio Cristiana CVCLAVOZ.
Haz clic aquí para visitar la página de CVC La Voz
Si necesitas oración o consejería, CVC La Voz tiene personas preparados para recibir ayuda. CVC La Voz Radio Cristiana provee contenido dinámico y relevante diariamente para impactar vidas. Tenemos un grupo dedicado de consejeros listo para recibir su petición de oración, comentarios o preguntas.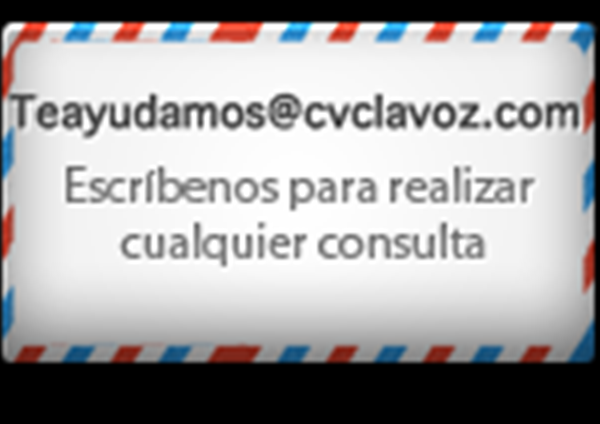 Recently on Conexión Vertical
Follow us on Facebook
Get Conexión Vertical devotionals directly to your News Feed.
Have something to say about this article? Leave your comment via Facebook below!
advertise with us
Example: "Gen 1:1" "John 3" "Moses" "trust"
Advanced Search
Listen to Your Favorite Pastors