Conexión Vertical - 3 de Febrero


CONOCER A DIOS
"Ahora, pues, si he hallado gracia en tus ojos, te ruego que me muestres ahora tu camino, para que te conozca…". Éxodo 33:13
"Ahora, pues, si he hallado gracia en tus ojos, te ruego que me muestres ahora tu camino, para que te conozca…". Éxodo 33:13
Conversaba hoy con una mama que me contaba que su hija ya no estaba en el camino del Señor, que había servido al Señor y que ella la veía con que entusiasmo lo hacía. Hoy no está en la iglesia y no quiere ni oír hablar de Dios, me comentaba apesadumbrada. Me miraba con los ojos llenos de lágrimas y me preguntaba
¿Cómo puede ser?
Mi respuesta fue NO CONOCIÓ A DIOS, solo sirvió al dios que ella creyó conocer.
Ella solo siguió sus propios caminos, pensando que conocía a Dios.
Ir a la iglesia, servir, cantar, ayunar y hasta te diría orar, sin conocimiento del Dios vivo y todopoderoso, no nos garantiza que cuando llegue el momento de la prueba y de estar firme ante la tentación, resistiremos. Si no tienes conocimiento de Dios no estarás parada firme en la Roca. Ese conocimiento llega con la comunión con El, orando no como loros sino con entendimiento, leyendo y escudriñando Su Palabra. Cuando Moisés ora a Dios porque delante tenía el Mar Rojo y detrás los carros del faraón, Dios le dice que marche que no clame a El, que avance y después de eso que ponga la vara en el Mar y así lo hizo.
"Cuando el SEÑOR vio que Moisés se acercabapara mirar, Dios lo llamó de en medio de la zarza, y dijo: "¡Moisés, Moisés!" Y él respondió: "Aquí estoy." Éxodo 3:4
Dios conocía a Moisés desde el vientre de su madre, y tenía para un plan con su vida, Moisés conoció a Dios, desde la zarza que ardía en el desierto y durante todo el tiempo que paso en Egipto, no dejo de hablar y orar al Dios que le había revelado sus Planes para el y su pueblo.
Cuando son los planes de Dios los que debemos hacer, no tenemos que preocuparnos por orar para que sean bendecidos, si son Sus planes y no los nuestros ya están bendecidos.
Moisés conocía a Dios, y Dios le había mostrado el camino a seguir.
Es la voluntad de Dios que le conozcamos, que le busquemos en la intimidad, para que podamos fortalecernos en El y El revelarnos su Planes y Sus caminos.
Si es Dios quien quiere usarte entonces El bendecirá lo que hagas.
El problema es cuando son nuestros planes, nuestras ideas, cuando le queremos ayudar a Dios a pensar y que acepte nuestro plan que creemos que es mejor que el suyo. Dios no necesita nuestra ayuda, ni servicio, solo quiere nuestra obediencia y que respondamos a sus propósitos.
Que seamos en las manos de Dios personas fieles, útiles y eficientes en llevar a cabo Su Plan para nuestras vidas.
Zulma Tigani
Haz clic aquí para visitar la página de CVC La Voz
Si necesitas oración o consejería, CVC La Voz tiene personas preparados para recibir ayuda. CVC La Voz Radio Cristiana provee contenido dinámico y relevante diariamente para impactar vidas. Tenemos un grupo dedicado de consejeros listo para recibir su petición de oración, comentarios o preguntas.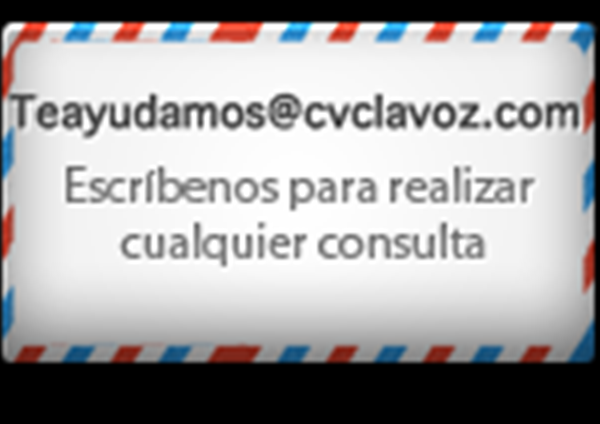 Recently on Conexión Vertical
Follow us on Facebook
Get Conexión Vertical devotionals directly to your News Feed.
Have something to say about this article? Leave your comment via Facebook below!
advertise with us
Example: "Gen 1:1" "John 3" "Moses" "trust"
Advanced Search
Listen to Your Favorite Pastors