Conexión Vertical - 4 de Agosto

"NO ABANDONES SU MISERICORDIA"
Jonas 2:8 "Los que siguen vanidades ilusorias, su misericordia abandonan".
La misericordia de Dios es mucho mas que un sentimiento de lástima, es una acción, que mueve al rey de universo a actuar en favor de sus hijos, a ayudarles y bendecirles, a otorgarles bienes y beneficios inmerecidos con el fin de cumplir su propósito en ellos.
Jonás había escuchado la voz de Dios, había entendido los planes que El tenia para el, pero aun así, decide irse en dirección opuesta, pensando quizá que por si mismo podía hacer mas o recibir los resultados anhelados, sin embargo, luego de una serie de altercados, ahora se encuentra dentro del vientre de un pez, sin esperanza y probablemente preparándose para morir. Allí Jonás entiende que voluntariamente había abandonado las misericordias de Dios, su bendición y protección. Jonás reconoce que cualquier cosa lejos de la voluntad de Dios es una vanidad y toda vanidad es vana y perecedera.
Te has preguntado si ¿estas disfrutando la misericordia y bendición de Dios en tu vida?, ¿estas en su perfecta voluntad gozando de sus favores y beneficios o al igual que Jonás te has alejado de los planes de Dios y te has ido tras vanidades que te separan de su misericordia.
Vanidades hay muchas, quizá es un empleo o una posición que absorbe tu tiempo y te quita la mirada de Jesús, pero también puede ser un sueño que persigues y al que le has dado prioridad antes que a los sueños de Dios, vanidades pueden ser los afanes de este mundo que nos dicen que Dios esta pasando de moda y que la vida es corta y hay que disfrutarla, en fin vanidades es todo aquello que te aleja del propósito perfecto de Dios y termina por envolverte en un mundo vano, efímero y pasajero.
Nosotros hemos sido creados para eternidad, los planes de Dios siempre traerán sentido y valor a tu vida, si hoy te sientes sin razones para vivir o sin motivos para despertar cada día, puede ser porque estas siguiendo vanidades como un día lo hizo Jonás. Vuélvete a Dios, regresa a sus brazos, el te está esperando, no para juzgarte sino para restaurarte, para usarte, para bendecirte y ayudarte. No pierdas mas el tiempo en vanidades y vanaglorias, busca el reino de Dios y las cosas eternas, y experimenta lo que es la plenitud de Corazón gozando de sus misericordias que son nuevas cada mañana.
Eclesiastés 12:8 "Vanidad de vanidades, dijo el Predicador, todo es vanidad".
Dilean Cañas

Haz clic aquí para visitar la página de CVC La Voz
Si necesitas oración o consejería, CVC La Voz tiene personas preparados para recibir ayuda. CVC La Voz Radio Cristiana provee contenido dinámico y relevante diariamente para impactar vidas. Tenemos un grupo dedicado de consejeros listo para recibir su petición de oración, comentarios o preguntas.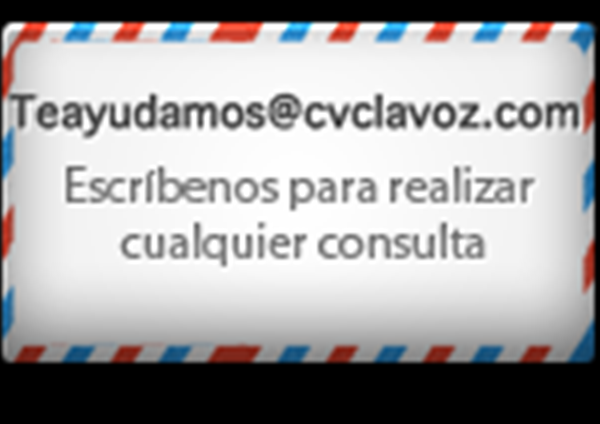 Recently on Conexión Vertical
Follow us on Facebook
Get Conexión Vertical devotionals directly to your News Feed.
Have something to say about this article? Leave your comment via Facebook below!
advertise with us
Example: "Gen 1:1" "John 3" "Moses" "trust"
Advanced Search
Listen to Your Favorite Pastors