Conexión Vertical - 5 de Febrero

AHORA ES EL TIEMPO
"He aquí ahora el tiempo aceptable; he aquí ahora el día de salvación" 2 Corintios 6:2
Cuando alguien está a punto de tomar sus vacaciones, cuenta los días hasta el momento de partida, pero cuando finalmente llega el tiempo, le sorprende ver la rapidez con que pasaron los días de las esperadas vacaciones. Con esto en mente, me puse a pensar ¿Qué es nuestra vida?, "ciertamente es como la neblina que aparece por un poco de tiempo, y luego se desvanece".
El tiempo pasa velozmente y cada uno debe comprobar que la vida humana no es una excepción, nadie puede contar los días hasta su muerte.
En un taller, un capataz creyente mostró a su colega un metro plegable y puso su pulgar sobre el número 60, diciendo:- Esta es tu edad, pero probablemente no llegues a los cien años.
Y siguió hablando, acerca de la importancia de aprovechar cada día como si fuera el último, vivirlo con esa intensidad que le agregue valor a nuestros días.
Escucha la palabra hoy; Dios nos da ahora el tiempo para ponernos a cuenta con Él.
El colega del capataz se quedó reflexionando, era un hombre honrado, y no entendía en que se tenía que poner a cuenta con Dios. Sin embargo, terminó por comprender que aun había áreas que debía entregar para ser cambiadas por Dios, que había decisiones, que seguía postergando año tras año. Un llamado que debía hacer, un perdón que debía pedir y otro que necesitaba otorgar….
¡No esperes a tener 60 años para aceptar al Señor Jesús como tu salvador! Nadie puede garantizarte que llegarás a esa edad. Recuerda que no eres dueño de tus días, comienza hoy y determínate a dejar de postergar las decisiones que sabes debes tomar, mañana podría ser demasiado tarde.
Telma Céspedes
Assistente Departamento RDS
El siguiente crédito, por obligación, es requerido para su uso por otras fuentes: Este artículo fue producido por Radio Cristiana CVCLAVOZ.
¿Que opinas de esto?
Haz clic aquí para visitar la página de CVC La Voz
Si necesitas oración o consejería, CVC La Voz tiene personas preparados para recibir ayuda. CVC La Voz Radio Cristiana provee contenido dinámico y relevante diariamente para impactar vidas. Tenemos un grupo dedicado de consejeros listo para recibir su petición de oración, comentarios o preguntas.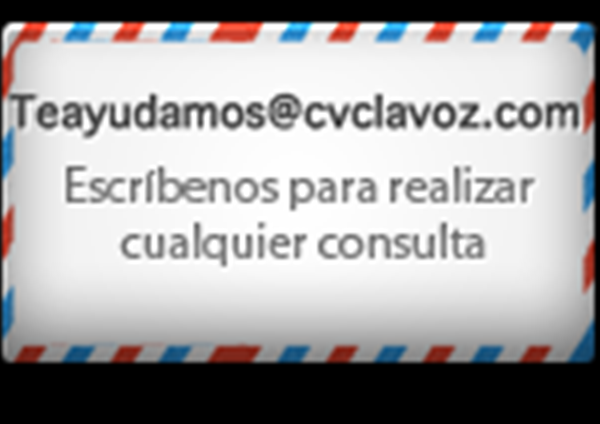 Recently on Conexión Vertical
Follow us on Facebook
Get Conexión Vertical devotionals directly to your News Feed.
Have something to say about this article? Leave your comment via Facebook below!
advertise with us
Example: "Gen 1:1" "John 3" "Moses" "trust"
Advanced Search
Listen to Your Favorite Pastors