Conexión Vertical - 21 de Enero

Nuevos Inicios
CVC LAVOZ Con cada fin de año llegan las evaluaciones de nuestras vidas, del año que transcurrió, de las metas alcanzadas y aquellas que quedaron postergadas.
Algunos podrían afirmar que el 2011 fue el mejor año de sus vidas, han alcanzado todas sus metas o tal vez la mayoría de ellas. Para otros en cambio, puede haber sido el año más complicado y lo único que desean es que termine a la brevedad posible.
Sin importar cómo fue este año puedes estar seguro de que a unos días de distancia se encuentra uno nuevo que trae consigo nuevas oportunidades, metas y sueños que tal vez durante mucho tiempo se postergaron pero que ahora se realizarán.
No importa si fueron días buenos o malos, lo importante es que no te aferres al pasado, las victorias y las derrotas quedarán en nuestras memorias y dejarán en nosotros enseñanzas que han hecho de nosotros mejores personas. Con cada prueba el Señor nos va perfeccionando. Recuerda que no puedes quedarte abrazando tus éxitos y tus fracasos, tienes que tener las manos libre para poder recibir las bendiciones que Dios tiene para ti.
"Y Jesús le dijo: Ninguno que poniendo su mano en el arado mira hacia atrás, es apto para el reino de Dios". Lucas 9:62
Antes de hacer cualquier lista de metas y propósitos para el 2012 te invito a recordar todas las bendiciones que Dios te dio este año. Tal vez no tuviste un trabajo estable pero Dios siempre proveyó para tus necesidades, posiblemente hayas luchado con una enfermedad pero el Señor siempre estuvo ahí para sostenerte y te mostró su mano poderosa, quizás te han calumniado o acusado injustamente, pero Él ha estado ahí para defenderte, tal vez tu familia ha enfrentado duras crisis pero el Espíritu Santo siempre te ha consolado y fortalecido, o posiblemente, nada de lo que planeabas resultaba y te sentías confundido pero Dios te ha mostrado qué camino seguir y te ha sostenido.
No importa lo que hayas atravesado, Dios siempre es fiel y te ha sostenido porque tiene planes de bien para tu vida.
Agradécele con todo tu corazón porque por más duro que haya sido este año Él nunca te ha dejado, nunca te ha desamparado y jamás lo hará. Puedes tener la certeza de que Dios siempre estará contigo.
Ahora, has tu lista de nuevos propósitos y encomienda tu vida al Señor, deja que Él sea quien dirija tus pasos, ¿quién más sabe lo que es mejor para nosotros?
"Encomienda a Jehová tu camino, confía en él; y él hará". Salmos 37:5 CVC LA VOZ
Ana María Frege Issa
El siguiente crédito, por obligación, es requerido para su uso por otras fuentes: Este artículo fue producido por Radio Cristiana CVCLAVOZ.
Haz clic aquí para visitar la página de CVC La Voz
Si necesitas oración o consejería, CVC La Voz tiene personas preparados para recibir ayuda. CVC La Voz Radio Cristiana provee contenido dinámico y relevante diariamente para impactar vidas. Tenemos un grupo dedicado de consejeros listo para recibir su petición de oración, comentarios o preguntas.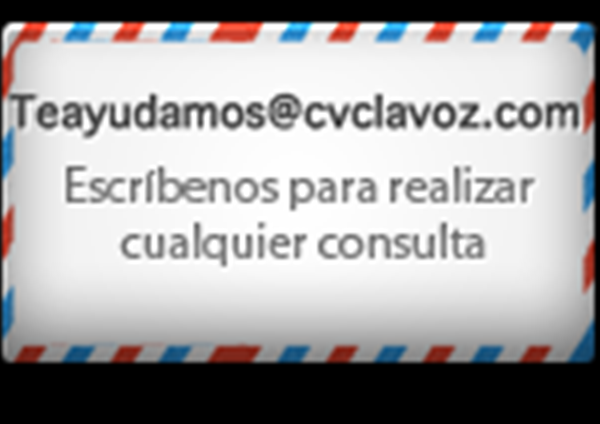 Recently on Conexión Vertical
Follow us on Facebook
Get Conexión Vertical devotionals directly to your News Feed.
Have something to say about this article? Leave your comment via Facebook below!
advertise with us
Example: "Gen 1:1" "John 3" "Moses" "trust"
Advanced Search
Listen to Your Favorite Pastors