Conexión Vertical - 20 de Febrero

¿Cómo está tu ropero?
Por lo cual, oh amados, estando en espera de estas cosas, procurad con diligencia ser hallados por él sin mancha e irreprensibles, en paz. - 2 Pedro 3:14
¡Cuántas cosas desparramadas por aquí y por allá! ¡Qué desorden por todas partes! Por fin hoy me decidí... y abrí mi ropero. En medio de ropas arrugadas, encontré mi conciencia, cubierta de polvo, arrugada, con huellas visibles del paso del tiempo. Le tuve lástima... y me tuve lástima. ¿Todavía servirá? Sí.... ¿por qué no? La limpié. La sacudí. La dejé como nueva, apta para todo servicio. Pero no fue todo.
También localicé desidias.... muchas desidias...desidias repletas de mañanas. Mañana haré esto. Mañana haré lo otro. Mañana haré aquello. Mañana.... y mañana...
Junté toda esa chatarra y la tiré. Entre los pañuelos vi disimuladas las angustias y los temores. ¿Perderé mi trabajo? ¿Mantendré mi salud? ¿Le pasará algo a mis seres queridos? Amarguras, calamidades, inquietudes.
Pensé: si sigo en esta línea de pensamientos, me voy a infartar, Así que... ¡afuera!
Suspiré: ¡por aquí tendría que haber comenzado! ¡Por aquí tengo que continuar día tras día! Y empecé a acomodar.
La esperanza... que tuve tan olvidada. Los afectos... que no siempre manifesté. Las amistades... que tanto descuidé. La fe… la renovada alegría de vivir.
Siempre me dijeron una y otra vez: todo tiempo pasado fue mejor. No sé... tal vez sí... tal vez no... Me importa más que el futuro sea mejor, por esa razón puse en orden mi ropero, acomodé las prioridades en mi vida, pero lo más importante… es haberle permitido a Dios que sea Él quien me indique cómo hacerlo.
Satisfecha, cerré el ropero. Y tranquila, inicié mi jornada.
Tengo una meta... hacia ella debo ir. Pero... ¿habrá otros roperos por allí en las condiciones que estuvo el mío? Por las dudas, si fuera el tuyo... recuerda que debes arreglarlo. Hazlo, hoy mismo, pero no lo hagas solo(a), deja que Dios te ayude, que arregle cada área de tu ser y limpie todo tu interior.
Es necesario poner en orden nuestra vida. Como el ropero, tu mundo interior necesita ser arreglado. ¿Por qué no comienzas hoy?
Brisna Bustamante S.
Sub Coordinadora Call Center
Haz clic aquí para visitar la página de CVC La Voz
Si necesitas oración o consejería, CVC La Voz tiene personas preparados para recibir ayuda. CVC La Voz Radio Cristiana provee contenido dinámico y relevante diariamente para impactar vidas. Tenemos un grupo dedicado de consejeros listo para recibir su petición de oración, comentarios o preguntas.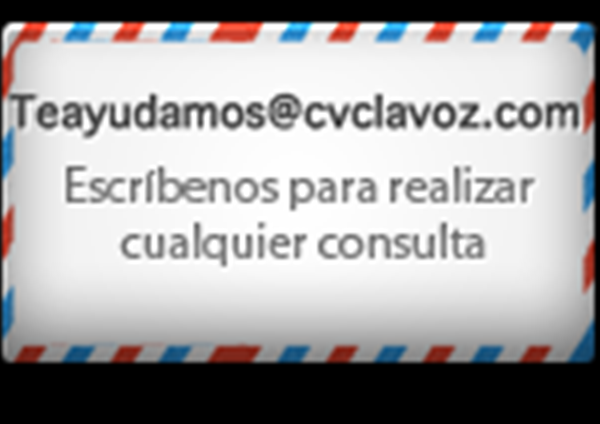 Recently on Conexión Vertical
Follow us on Facebook
Get Conexión Vertical devotionals directly to your News Feed.
Have something to say about this article? Leave your comment via Facebook below!
advertise with us
Example: "Gen 1:1" "John 3" "Moses" "trust"
Advanced Search
Listen to Your Favorite Pastors