Conexión Vertical - 22 de Octubre


¿Estás seguro?
"Por nada estéis afanosos, sino sean conocidas vuestras peticiones delante de Dios en toda oración y ruego, con acción de gracias. Y la paz de Dios, que sobrepasa todo entendimiento, guardará vuestros corazones y vuestros pensamientos en Cristo Jesús." - Filipenses 4:6-7
Muchas veces, estamos tan ocupados en nuestros problemas y en tratar de resolverlos que estamos llenos de incertidumbre, de labios decimos que creemos pero nuestra mente y corazón no ven tranquilidad, no debes dejar que tus opiniones prevalezcan antes que las afirmaciones de la Palabra de Dios. El Evangelio nos llama a creer y no suponer.
Nuestro Dios infinitamente poderoso existe y no sólo se interesa por ti, sino que está en esos momentos cuando te encuentras tan lleno de angustia que las oraciones se transforman en gemidos. El está también, ofreciendo su grandeza y amor, esperando que tú vuelvas a aceptarlo como suprema autoridad de tu vida, reconociendo con humildad que solo Él se encarga de ti.
A todos los que viven ensimismados en su "yo", en sus problemas y sentimientos, a quienes la angustia los asusta y las dudas los acosa, la Palabra de Dios les da una maravillosa respuesta: "Porque Jehová es bueno; para siempre es su misericordia, y su verdad por todas las generaciones." Salmos 100:5
Dios es nuestro creador, nuestro amo, nuestro pastor, Dios es un Padre que nos ha dado un Salvador. Solo Dios puede librarnos de nuestras angustias si nos volvemos a Él.
Por lo cual es necesario tener a Dios como centro de tu vida, en lugar de enfocarte en tus problemas y llenarte de dudas, de tal manera comenzarás a vivir en paz contigo mismo y con los demás, podrás orar con gozo y esperanza.
Ahora te invito a declarar "Señor, eres más grande que mis preocupaciones y ya cargaste con ellos, enséñame a ser sumiso y poner toda mi confianza en ti."
Si hoy te encuentras, abrumado por las dudas y las preocupaciones, la incertidumbre y la ansiedad acerca del futuro, si el temor invade tu vida, si estás viendo algunos de tus problemas como sin salida, ve y entrega a Jesús tu carga, para que puedas vivir en la paz y vida abundante que El te quiere dar.
Telma Céspedes
Haz clic aquí para visitar la página de CVC La Voz
Si necesitas oración o consejería, CVC La Voz tiene personas preparados para recibir ayuda. CVC La Voz Radio Cristiana provee contenido dinámico y relevante diariamente para impactar vidas. Tenemos un grupo dedicado de consejeros listo para recibir su petición de oración, comentarios o preguntas.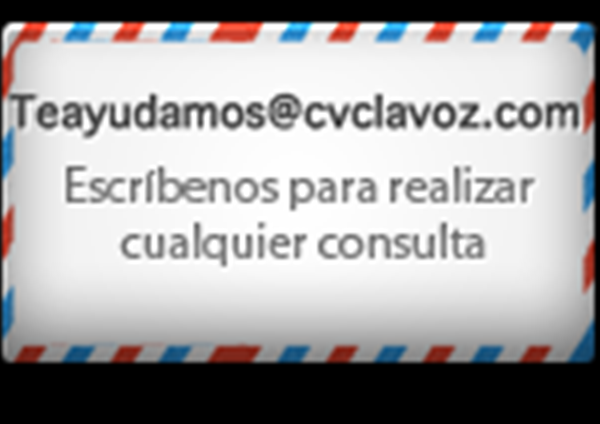 Recently on Conexión Vertical
Follow us on Facebook
Get Conexión Vertical devotionals directly to your News Feed.
Have something to say about this article? Leave your comment via Facebook below!
advertise with us
Example: "Gen 1:1" "John 3" "Moses" "trust"
Advanced Search
Listen to Your Favorite Pastors