Conexión Vertical - 13 de Agosto

Dios ya conoce tus grietas
Hay una historia antigua, tal vez muy conocida por muchos, que cuenta que Un cargador de agua de la India tenía dos grandes vasijas que colgaban a los extremos de un palo y que llevaba encima de los hombros. Una de las vasijas tenía varias grietas, mientras que la otra era perfecta y conservaba toda el agua al final del largo camino a pie, desde el arroyo hasta la casa de su patrón, pero cuando llegaba, la vasija rota solo tenía la mitad del agua.
Durante dos años completos esto fue así diariamente, desde luego la vasija perfecta estaba muy orgullosa de sus logros, pues se sabía perfecta para los fines para los que fue creada. Pero la pobre vasija agrietada estaba muy avergonzada de su propia imperfección y se sentía miserable porque solo podía hacer la mitad de todo lo que se suponía que era su obligación.
Después de dos años, la tinaja quebrada le habló al aguador diciéndole:
"Estoy avergonzada y me quiero disculpar contigo porque debido a mis grietas sólo puedes entregar la mitad de mi carga y sólo obtienes la mitad del valor que deberías recibir."
El aguador apesadumbrado, le dijo compasivamente:
"Cuando regresemos a la casa quiero que notes las bellísimas flores que crecen a lo largo del camino." Así lo hizo la tinaja. Y en efecto vio muchísimas flores hermosas a lo largo del trayecto, pero de todos modos se sintió apenada porque al final, sólo quedaba dentro de sí la mitad del agua que debía llevar.
El aguador le dijo: ¿Te diste cuenta de que las flores sólo crecen en tu lado del camino?
Siempre he sabido de tus grietas y quise obtener ventaja de ello, sembré semillas de flores a todo lo largo del camino por donde tú vas y todos los días tú las has regado. Por dos años yo he podido recoger estas flores para decorar la casa de mi patrón. Sin ser exactamente como eres, él no hubiera tenido esa belleza sobre su mesa.
Cada uno de nosotros tiene sus propias grietas y muchas veces pensamos que Dios no puede usarnos, que hay personas más capacitadas que podrían hacer mejores cosas que nosotros pero en 1ª Corintios 1: 27, 28 encontramos un gran tesoro:

"27sino que lo necio del mundo escogió Dios, para avergonzar a los sabios; y lo débil del mundo escogió Dios, para avergonzar a lo fuerte;
28 y lo vil del mundo y lo menospreciado escogió Dios, y lo que no es, para deshacer lo que es"
Dios puede hacer grandes cosas en tu vida, no mires tus defectos y problemas como algo que te descalifica, sino como oportunidades para que Dios obre en tu vida y haga su obra. Con grietas y todo Dios te ha incluido en sus grandes planes. Confía en Él!
Haz clic aquí para visitar la página de CVC La Voz
Si necesitas oración o consejería, CVC La Voz tiene personas preparados para recibir ayuda. CVC La Voz Radio Cristiana provee contenido dinámico y relevante diariamente para impactar vidas. Tenemos un grupo dedicado de consejeros listo para recibir su petición de oración, comentarios o preguntas.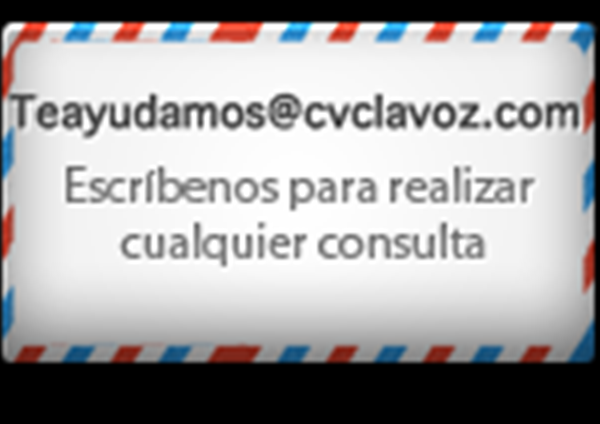 Recently on Conexión Vertical
Follow us on Facebook
Get Conexión Vertical devotionals directly to your News Feed.
Have something to say about this article? Leave your comment via Facebook below!
advertise with us
Example: "Gen 1:1" "John 3" "Moses" "trust"
Advanced Search
Listen to Your Favorite Pastors