Conexión Vertical - 23 de Diciembre

Sabes con quien estas hablando?
5 Y había allí un hombre que hacía treinta y ocho años que estaba enfermo. 6 Cuando Jesús lo vio acostado, y supo que llevaba ya mucho tiempo así, le dijo: ¿Quieres ser sano?
Juan 5:5-6
Cuando leía este pasaje bíblico, venían a mi mente, tantas personas que se encuentran en situación parecida. A veces los escuchamos hablar, con cierta dosis de resignación frente a la adversidad, debido al tiempo transcurrido sufriendo una prueba. En este caso el paralítico llevaba 38 largos años de enfermedad.
En esee tiempo, cuantas cosas habrá intentado, cuantas veces habrá concurrido al estanque de Betesda en busca de su sanidad. Cuantas otras, volvió con un sentimiento de frustración y fracaso a su casa, llevando a cuesta su enfermedad.
En este caso, Jesús mismo se encuentra con él, la sanidad estaba delante de él pero su historia de enfermedad y fracaso, no le permitía ver la bendición que estaba a punto de obtener.
Simplemente ante la pregunta de Jesús, sobre si quería ser sano, el paralítico responde: No tengo nadie que me meta en el estanque….
A veces nuestra propia historia, se transforma en el primer impedimento, para activar nuestra fe y recibir un milagro.
El paralítico estaba enfocado en lo que le faltaba, en largos años de dolor y frustración, pero delante de él, estaba Jesús, la fuente de vida y sanidad.
Jesús simplemente le dijo: 8 Levántate, toma tu lecho, y anda.
Y el paralítico fue sano.
Cuantas veces tenemos reacciones parecidas frente a la prueba, pensamos que serán para siempre, tenemos justificaciones válidas de porqué no alcanzamos respuesta de Dios. Pero El está ahí frente a nosotros, dispuesto a cambiar cualquier realidad.
En ocasiones, estamos a punto de desfallecer porque no vemos ni siquiera un indicio de que algo cambie, pero tal vez estamos a centímetros de recibir un precioso milagro de parte de Dios.
Te animo en este día, que cambies tu mirada, que ya no esté puesta en las veces que intentaste y fracasaste, o en el pasado doloroso, sino en el mismo Jesús, quien está contigo para darte una vida abundante.
No desistas, tu milagro puede estar tan cerca… a la distancia de una oración.
Haz clic aquí para escuchar a Promesas De Dios
Haz clic aquí para ver videos de Al Punto con el Dr. Jeffrey de Leon
Haz clic aquí para visitar la página de CVC La Voz
Si necesitas oración o consejería, CVC La Voz tiene personas preparados para recibir ayuda. CVC La Voz Radio Cristiana provee contenido dinámico y relevante diariamente para impactar vidas. Tenemos un grupo dedicado de consejeros listo para recibir su petición de oración, comentarios o preguntas.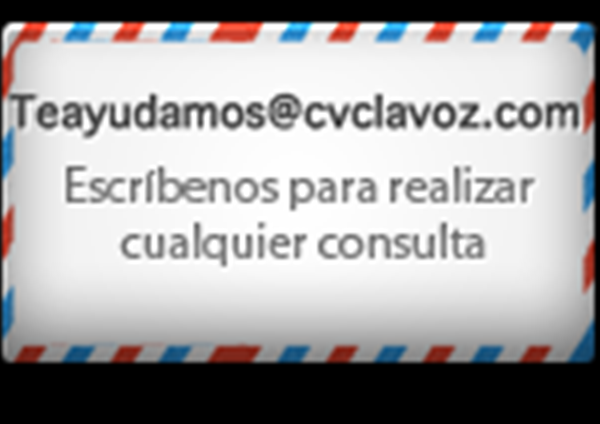 Recently on Conexión Vertical
Follow us on Facebook
Get Conexión Vertical devotionals directly to your News Feed.
Have something to say about this article? Leave your comment via Facebook below!
advertise with us
Example: "Gen 1:1" "John 3" "Moses" "trust"
Advanced Search
Listen to Your Favorite Pastors