Conexión Vertical - 23 de Febrero

¿Qué hay dentro de ti?
Sueños, proyectos, problemas, tristezas, anhelos, intenciones, deseos, alegrías, decepciones, ansiedad, esperanza… cientos de sentimientos y pensamientos pueden invadirte y por más que trates de separarlos para explicar cada uno, es muy difícil saber qué hay dentro de nosotros. A grandes rasgos podremos explicarlos pero lo cierto es que muchas veces ni siquiera nosotros mismos podemos entender lo que nos pasa.
Puede ser que ahora tengas el corazón lleno de esperanza y estás trabajando muy duro por un sueño o tal vez anoche lloraste hasta quedarte dormido y eso nadie más que tú y Dios lo saben.
Sin importar si cuentas con una familia numerosa y muchos amigos o si eres una persona más retraída y no tienes a nadie; sin duda alguna, hay cosas que no se pueden contar, ya sea porque nadie más te entendería o porque simplemente no hay palabras para expresar correctamente lo que estamos atravesando.
Y a veces creemos que Dios anda muy ocupado con otros problemas y que lo nuestro no es nada. Pero no es así, Dios está muy interesando en ti y en mi, en lo que pensamos, lo que soñamos, lo que nos duele y lo que nos hace felices.
Todas las veces que lloraste solo en tu habitación, Dios estuvo secando tus lágrimas y abrazándote, las veces que alcanzaste una meta, celebró contigo y te levantó en sus hombros como un buen campeón.
Todos tus planes los conoce y ha estado trazando caminos, mejores que los tuyos, para que puedas alcanzarlos.
Dios no es ajeno a ti ni a lo que estás viviendo. Él quiere ser tu amigo, consejero, tu padre. Quiere que llegues a ser aquello para lo que fuiste diseñado. Si puso sueños en ti, te dará la posibilidad, los medios, los talentos y abrirá las puertas que necesites para alcanzar tu propósito.
Aunque Él ya sabe lo que te pasa y te entiende mejor que nadie, está esperando que le cuentes lo que te sucede, lo que sientes, que hables con Él y que le hagas parte de tu vida. Cuéntale lo que hay dentro de ti, aunque no tengas palabras, Dios entiende nuestras lágrimas y nuestro silencio.
Recuerda que: "Porque los ojos del Señor están sobre los justos, Y sus oídos atentos a sus oraciones…" 1º Pedro 3:12
Ana María Frege Issa
Coordinadora Call Center
El siguiente crédito, por obligación, es requerido para su uso por otras fuentes: Este artículo fue producido por Radio Cristiana CVCLAVOZ.
Haz clic aquí para escuchar a Promesas De Dios
Haz clic aquí para ver videos de Al Punto con el Dr. Jeffrey de Leon
Haz clic aquí para visitar la página de CVC La Voz
Si necesitas oración o consejería, CVC La Voz tiene personas preparados para recibir ayuda. CVC La Voz Radio Cristiana provee contenido dinámico y relevante diariamente para impactar vidas. Tenemos un grupo dedicado de consejeros listo para recibir su petición de oración, comentarios o preguntas.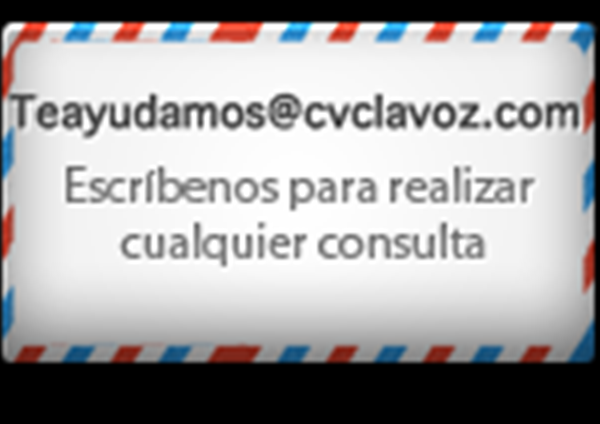 Recently on Conexión Vertical
Follow us on Facebook
Get Conexión Vertical devotionals directly to your News Feed.
Have something to say about this article? Leave your comment via Facebook below!
advertise with us
Example: "Gen 1:1" "John 3" "Moses" "trust"
Advanced Search
Listen to Your Favorite Pastors