Conexión Vertical - 23 de Julio


DECORANDO EL EVANGELIO
Cesar era el nombre de aquel taxista. Al iniciar nuestro recorrido con Cesar, pudimos notar que era un hombre religioso por las imágenes y escapularios que llevaba en su espejo retrovisor. Después de titubear un poco, (mucho en realidad) decidimos preguntarle si sabia como ir al cielo, si entendía que Jesús era el único camino para ir al cielo y aunque expresó creer en la biblia pero disgustar de los cultos y reuniones religiosas, pudimos enfocarnos en su vida eterna, le hablamos de buscar el perdón de Dios y finalmente le invitamos a hacer la oración para aceptar a Cristo como Salvador, ahí mismo en el taxi oramos y aceptó visitar una iglesia cerca a su casa.
Aunque suena fácil, en realidad mi esposo y yo pasamos algún tiempo intentando iniciar la conversación. Hemos estado orando a Dios que nos ayude en el área del evangelismo y sabemos que ese fue sólo el comienzo. La parte más difícil era descifrar como hacer del evangelio algo llamativo. En realidad por un momento pensamos en aquellos datos importantes que las personas deberían saber, o quizá el señalar las falsas enseñanzas que por años han recibido, definitivamente el enumerar las bendiciones de Dios sonaba muy convencedor pero meditando en la palabra veíamos como Pablo no se preocupaba por hacer el mensaje de salvación algo atractivo, el interés del gran apóstol consistía en llevar el mensaje verdadero.
Pablo no le pintó pajaritos en el aire a las personas, ni les prometió infinidad de privilegios y aun así fue uno de los hombres que mas aportó al crecimiento de la iglesia primitiva.
Cuando pensemos en llevar la palabra de Dios a otros para que conozcan a su salvador no nos esforcemos en buscar palabras ostentosas o mensajes llamativos, vamos a la simpleza y sencillez de la palabra, hablemos del arrepentimiento como lo hizo Pablo, guiemos a las personas a convertirse a Dios y a vivir una vida que le agrade y veremos el respaldo del Señor.
Es muy probable que hoy mismo una persona que conoces necesite la salvación de Dios, no lo dudes más, decídete a compartir el mensaje de Cristo con la sencillez y convicción que lo hicieron los apóstoles.
Dilean Cañas
¿Que piensas de este devocional, fue de bendición para tu vida? Envía tus comentarios a]teayudamos@cvclavoz.com
Haz clic aquí para visitar la página de CVC La Voz
Si necesitas oración o consejería, CVC La Voz tiene personas preparados para recibir ayuda. CVC La Voz Radio Cristiana provee contenido dinámico y relevante diariamente para impactar vidas. Tenemos un grupo dedicado de consejeros listo para recibir su petición de oración, comentarios o preguntas.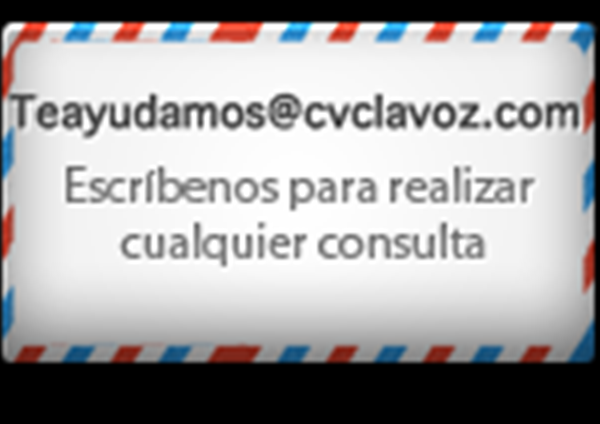 Recently on Conexión Vertical
Follow us on Facebook
Get Conexión Vertical devotionals directly to your News Feed.
Have something to say about this article? Leave your comment via Facebook below!
advertise with us
Example: "Gen 1:1" "John 3" "Moses" "trust"
Advanced Search