Conexión Vertical - 24 de Julio


"EL CUADRO"
Cuentan que un estudiante de arte había dado por finalizado su cuadro y decidió llamar a su maestro para que lo evaluara.
Se acercó el maestro, observó la obra con detenimiento y concentración durante un rato. Entonces, le pidió al alumno la paleta y los pinceles y con gran destreza dio unos cuantos trazos aquí y allá.
Una vez que el maestro terminó, le regresó las pinturas al alumno. Para asombro de éste último el cuadro había cambiado notablemente. Ante sus propios ojos la obra había pasado de mediocre a sublime.
Casi con reverencia le preguntó al maestro: ¿Cómo es posible que con unos cuantos toques, simples detalles, haya cambiado tanto el cuadro?
"Es de detalles, justamente, de los que está hecho el arte". Contestó el maestro.
Al igual que el estudiante, nosotros tenemos la vista poco afinada. Creemos que cierta etapa de nuestra vida está terminada, que ya no hay nada más que hacer. Pensamos que un determinado problema está "resuelto" de la mejor manera y buscamos seguir adelante o tal vez pensamos que está bien nuestra vida así como está. Tal vez no es perfecta pero es "lo mejor que podemos hacer" y nos conformamos con el resultado.
Sin importar en qué etapa esté el cuadro de tu vida, si crees que está terminado o si piensas que aún no has llegado ni a la mitad pero ya no sabes cómo seguir, llama al Maestro, preséntale tu cuadro y permite que Él pueda terminarlo.
Dios no se rinde con ninguno de nosotros y aunque parezca que no está haciendo nada, el Maestro está trazando líneas finas, dándole toques que cada día nos van acercando más al cuadro final de nuestras vidas.
Si te detienes un momento, verás que tu vida no es igual a lo que era hace unos años, o quizás meses. Muchos no tenemos cambios de 180º de la noche a la mañana, es muy poca la gente que cambia tanto en poco tiempo.
La mayoría de nosotros hemos ido cambiando día a día. Dios nos va perfeccionando, a veces, sin que nos demos cuenta o entendamos lo que sucede e inclusive hay cosas que en su momento parecen carecer de sentido, pero después, cuando miramos nuestra vida, vemos que ya no somos los mismos de antes, que nuestras reacciones son diferentes, que nuestros pensamientos han cambiado, que ya no somos los mismos.
Dale paso al Maestro y permite que Él haga de tu vida una obra sublime.
Y estoy seguro de que Dios, quien comenzó la buena obra en ustedes, la continuará hasta que quede completamente terminada el día que Cristo Jesús vuelva. Filipenses 1:6 (NTV)
Ana María Frege Issa
Coordinadora Call Center
Haz clic aquí para visitar la página de CVC La Voz
Si necesitas oración o consejería, CVC La Voz tiene personas preparados para recibir ayuda. CVC La Voz Radio Cristiana provee contenido dinámico y relevante diariamente para impactar vidas. Tenemos un grupo dedicado de consejeros listo para recibir su petición de oración, comentarios o preguntas.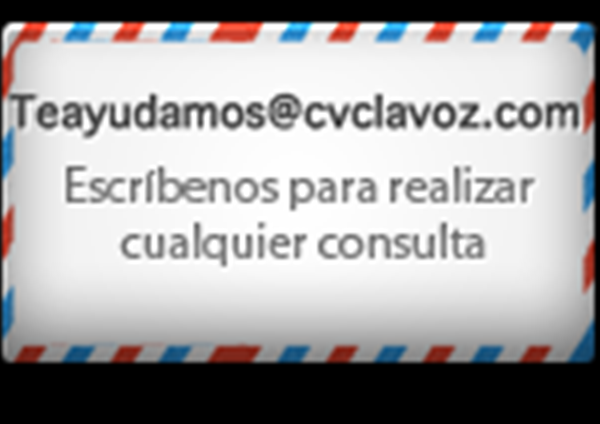 Recently on Conexión Vertical
Follow us on Facebook
Get Conexión Vertical devotionals directly to your News Feed.
Have something to say about this article? Leave your comment via Facebook below!
advertise with us
Example: "Gen 1:1" "John 3" "Moses" "trust"
Advanced Search
Listen to Your Favorite Pastors