Conexión Vertical - 25 de Febrero


¿Dónde está fijada tu mirada?
"…Y corramos con perseverancia la carrera que Dios nos ha puesto por delante. Esto lo hacemos al fijar la mirada en Jesús, el campeón que inicia y perfecciona nuestra fe." - Hebreos 12:1-2
Un gran maratón ha empezado, a medida que marcha se va formado 3 grupos. El primer grupo, después de correr las primeras millas, ya se encuentra agotado y rendido. El segundo está avanzando pero muy lentamente; están dudando si se retiran o si siguen. El tercer y último grupo se está esforzando por seguir el ritmo, manteniendo el buen ánimo para llegar a la meta. Creo que es predecible qué grupo ha llegado a la meta ¿verdad?
Es sabido que un atleta fija su meta antes de empezar la marcha. En este caso, estos tres grupos empezaron bien, partieron por igual, ¿pero que hizo que no todos llegaran a cumplir con su propósito? ¿Las adversidades? ¿El cansancio? Sin duda, en el camino se encontraron con dificultades y seguro que la meta dejó de estar en su mente como prioridad y fue remplazada por otra cosa que tomó ventaja, dejándolos en el camino.
En nuestro caso, para mantenernos en la carrera de la vida tenemos que fijar la mirada en Jesús, centrándonos en Su Palabra, en sus estatutos. Es nuestra guía. Pero esto requiere de DISCIPLINA (conjunto de normas, que ordena y organiza el comportamiento y la conducta del ser humano). La Biblia dice que Dios es el que nos corrige. Esto está en Hebreos 12:5-6 NTV: "¿Acaso olvidaron las palabras de aliento con que Dios les habló a ustedes como a hijos? Él dijo: «Hijo mío, no tomes a la ligera la disciplina del Señor y no te des por vencido cuando te corrija. Pues el Señor disciplina a los que ama y castiga a todo el que recibe como hijo»"
Sin duda, necesitamos ser disciplinados, en todo, y no tomar a la ligera la corrección, la confrontación inclusive la reprensión, porque esto nos ayuda a tener una madurez integral; de seguro que los miembros del tercer grupo tenían en común la disciplina y la firme decisión de llegar a la meta.
La práctica hace al maestro - dice una frase muy conocida. Es así que la práctica de la palabra de Dios hace la disciplina y como resultado tendremos una vida plena.
Si tu mirada no ha estado puesta en la Palabra como guía, hoy es el día para hacerlo. O bien, si aún poniendo tu mirada en la Biblia, no has desarrollado la disciplina de ser consistente, hoy es el día para ponerlo en práctica.
Corramos como el tercer grupo, con la meta en nuestra mente, sin que nada pueda afectar o desviar la mirada de Aquél que nos ama: Dios. Ten en cuenta que la meta y la disciplina siempre van de la mano.
Soraida Fuentes A.
Haz clic aquí para visitar la página de CVC La Voz
Si necesitas oración o consejería, CVC La Voz tiene personas preparados para recibir ayuda. CVC La Voz Radio Cristiana provee contenido dinámico y relevante diariamente para impactar vidas. Tenemos un grupo dedicado de consejeros listo para recibir su petición de oración, comentarios o preguntas.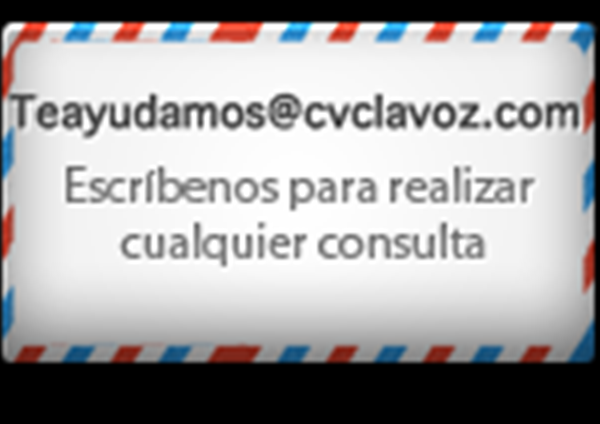 Recently on Conexión Vertical
Follow us on Facebook
Get Conexión Vertical devotionals directly to your News Feed.
Have something to say about this article? Leave your comment via Facebook below!
advertise with us
Example: "Gen 1:1" "John 3" "Moses" "trust"
Advanced Search
Listen to Your Favorite Pastors