Conexión Vertical - 28 de Octubre


¿Qué haces aquí?
"Y anduvo por el desierto un día de camino, y vino y se sentó bajo un arbusto (enebro); pidió morirse y dijo: "Basta ya, SEÑOR, toma mi vida porque yo no soy mejor que mis padres." - 1 Reyes 19:4 (NBH)
¿Te has dado cuenta, que cuando nos desanimamos, somos nosotros mismos los que nos llevamos al desierto? Nos gusta estar solos y apartados de todo y de todos sin saber que esta actitud solo nos debilita cada vez mas. Lo más importante es que no vamos solos, sino que Dios nos acompaña a ese lugar, nos escucha, nos cuida , al igual que lo hizo con Elías en el desierto, dándole descanso. (1 Reyes 19:5-7)
"Allí entró en una cueva y pasó en ella la noche; y he aquí, vino a él la palabra del SEÑOR, y El le dijo: ¿Qué haces aquí, Elías?" 1Reyes 19:9,13
Dios se presenta a Elías y le pregunta; ¿Qué haces aquí? En otras palabras; ¿Qué haces en la cuerva? Tu no perteneces aquí! Después de este encuentro Dios le da un trabajo para que vuelva a servir: porque el enemigo aprovecharía el ocio y la tristeza para quitarle aún las pocas fuerzas que le quedaban, no solas las espirituales, sino las físicas también, dudando del propósito de Dios para su vida.
"Ve, regresa por tu camino al desierto de Damasco y cuando hayas llegado, ungirás a Hazael por rey sobre Aram; 1 Reyes 19:15
Es verdad que Dios no nos encargará algo más allá de lo que podamos resistir, pero existen momentos en los que solo quisiéramos tirar nuestra armadura, porque nos cansamos de tanto luchar, intentamos y no resultó, y nos terminamos internando en la cueva de la depresión.
Tal vez te encuentres en una situación parecida, sin esperanza, en tristeza, pensando que los mejores días han pasado, que ya no hay oportunidad, si te llenas de pensamientos negativos y de derrota, reacciona, hoy Dios te pregunta: ¿Qué haces aquí?! ¡Levántate en el nombre de Jesús! ¡Regresa a casa, al servicio, porque tú no fuiste creado para esconderte en la cueva de la tristeza y la desesperación.
"Las personas valientes, son aquellas que deciden avanzar, en donde los demás se dan por vencidos".
Shirley Chambi
Haz clic aquí para visitar la página de CVC La Voz
Si necesitas oración o consejería, CVC La Voz tiene personas preparados para recibir ayuda. CVC La Voz Radio Cristiana provee contenido dinámico y relevante diariamente para impactar vidas. Tenemos un grupo dedicado de consejeros listo para recibir su petición de oración, comentarios o preguntas.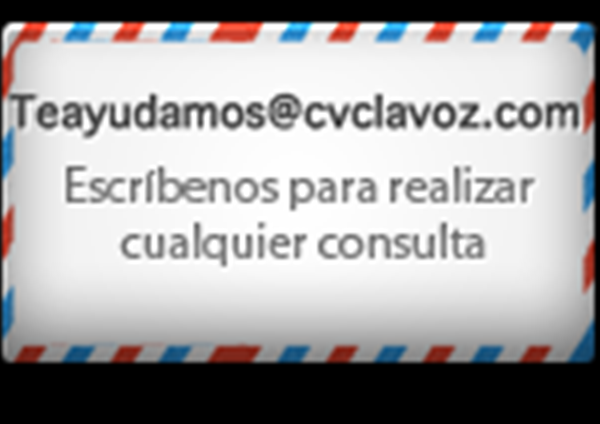 Recently on Conexión Vertical
Follow us on Facebook
Get Conexión Vertical devotionals directly to your News Feed.
Have something to say about this article? Leave your comment via Facebook below!
advertise with us
Example: "Gen 1:1" "John 3" "Moses" "trust"
Advanced Search
Listen to Your Favorite Pastors