Conexión Vertical - 28 de Enero

Debajo de Sus alas
CVC LA VOZ – Hace un tiempo se difundió un documental sobre un incendio en el Parque Nacional de Yellowstone de Estados Unidos. Si bien no era el primer incendio en el parque. Pero lo que le dio relevancia a este suceso fue lo que encontraron los guardabosques después de haber sofocado el fuego.
Al pie de un árbol había un ave calcinada. La posición en la que estaba resultaba ser extraña porque no parecía haber estado huyendo del fuego. Sus alas estaban cerradas alrededor de su cuerpo. Cuando un guardabosques la tocó, salieron de debajo de sus alas sus polluelos.
Aparentemente, al ver que no podría escapar con todos sus polluelos, el ave los llevó a la base del árbol donde estarían a salvo del humo y ahí los protegió del fuego cubriéndolos con sus alas, dando su vida por ellos.
Muchas veces sentimos que todo a nuestro alrededor está en llamas, que los problemas nos van a destruir y que no hay forma de que salgamos ilesos.
No importa la magnitud del incendio en el que estás, ni cuán altas estén las llamas alrededor tuyo, porque sin importar cuán negativo veas tu panorama, Dios te cubre con sus alas. Una vez que pase el incendio, saldrás como los polluelos, intacto.
Dios, como esa madre amorosa, te ha puesto en un lugar seguro y Él te protege para que ninguna llama pueda tocarte.
No tienes nada que temer, si Dios está contigo, nada ni nadie podrá dañarte. Corre a buscar refugio y descansa bajo las alas de Dios. No hay mejor lugar. CVC LA VOZ
"Con sus plumas te cubrirá, Y debajo de sus alas estarás seguro; Escudo y adarga es su verdad". Salmos 91:4
Ana María Frege Issa
Nota: La difusión de los artículos de este portal está permitido solamente si se respeta su contenido y no se altera o se edita el mismo.
El siguiente crédito, por obligación, es requerido para su uso por otras fuentes: Este artículo fue producido por Radio Cristiana CVC La Voz para que sea útil en la vida de cada persona que lo lea. CVC La Voz es un servicio de programación en vivo que se transmite a nivel internacional por satélite, internet, y onda corta con contenido de calidad que incluye música cristiana, presentadores profesionales, noticias, deportes y reflexiones. Nuestro contenido ayuda a emisoras de radio locales y sus oyentes en América Latina, Estados Unidos,el Caribe y España.
Haz clic aquí para visitar la página de CVC La Voz
Si necesitas oración o consejería, CVC La Voz tiene personas preparados para recibir ayuda. CVC La Voz Radio Cristiana provee contenido dinámico y relevante diariamente para impactar vidas. Tenemos un grupo dedicado de consejeros listo para recibir su petición de oración, comentarios o preguntas.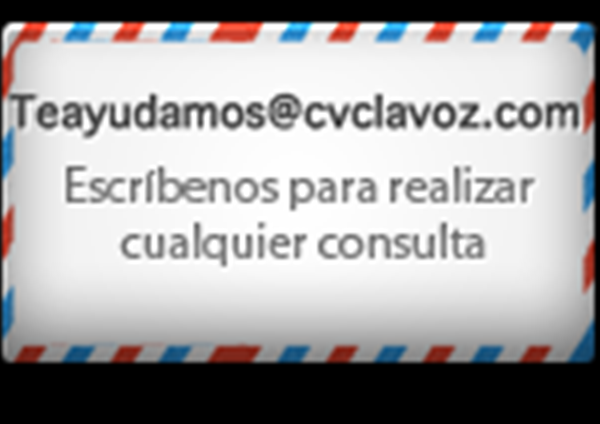 Recently on Conexión Vertical
Follow us on Facebook
Get Conexión Vertical devotionals directly to your News Feed.
Have something to say about this article? Leave your comment via Facebook below!
advertise with us
Example: "Gen 1:1" "John 3" "Moses" "trust"
Advanced Search
Listen to Your Favorite Pastors