Conexión Vertical - 30 de Diciembre

Su Fiel Amor
¿A dónde podría alejarme de tu Espíritu? ¿A dónde podría huir de tu presencia? Si subiera al cielo, allí estás tú; si tendiera mi lecho en el fondo del abismo, también estás allí. Si me elevara sobre las alas del alba, o me estableciera en los extremos del mar, aun allí tu mano me guiaría, me sostendría tu mano derecha. Salmo 139:7-10
Muchos de nosotros en algún momento de nuestras vidas hemos tenido la misma actitud de Jonás, no hacer la voluntad de Dios y huir de su presencia (Jonás 1:3), pensando que era la mejor solución. Pero Dios fue tan fiel que en ningún momento lo abandonó, a pesar de su desobediencia. Él estuvo con Jonás cuando lo echaron al mar, incluso dispuso un gran pez para que se lo tragara porque sabía que al encontrarse en esa circunstancia, él lo invocaría y Dios le respondería, porque Él es misericordioso y compasivo, lento para enojarse y lleno de amor inagotable. (Jonás 4:2)
Dios está siempre con nosotros, en los momentos buenos y en los malos, cuando hay alegrías y cuando hay dolor. Su amor constante y su fidelidad son promesas a las que podemos aferrarnos cada día.
Aunque cambien de lugar las montañas y tiemblen las colinas, no cambiará mi fiel amor por ti ni vacilará mi pacto de paz, dice el Señor, que de ti se compadece. Isaías 54:10.
Dondequiera que vayamos, no podemos salir fuera de los límites del amor y el cuidado de Dios. Lo único que necesitamos hacer es confiar en Él y avanzar por el camino que nos ha puesto por delante, porque nadie más que Él sabe qué es lo mejor para cada uno de nosotros.
Recuerda… a Dios no hay que entenderlo sino obedecerlo, esa es la mejor decisión!!
Haz clic aquí para visitar la página de CVC La Voz
Si necesitas oración o consejería, CVC La Voz tiene personas preparados para recibir ayuda. CVC La Voz Radio Cristiana provee contenido dinámico y relevante diariamente para impactar vidas. Tenemos un grupo dedicado de consejeros listo para recibir su petición de oración, comentarios o preguntas.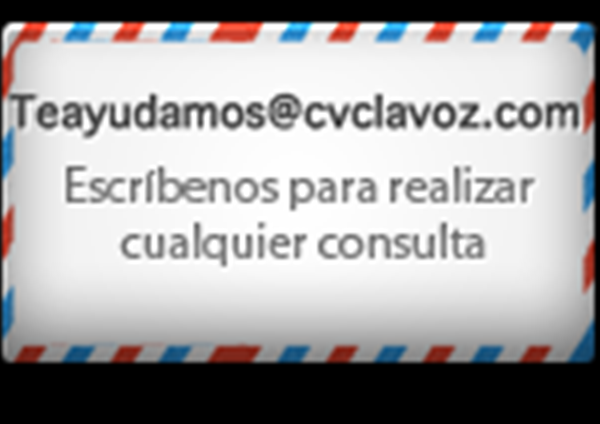 Recently on Conexión Vertical
Follow us on Facebook
Get Conexión Vertical devotionals directly to your News Feed.
Have something to say about this article? Leave your comment via Facebook below!
advertise with us
Example: "Gen 1:1" "John 3" "Moses" "trust"
Advanced Search
Listen to Your Favorite Pastors