Conexión Vertical - 28 de Febrero


Estás Protegido
Las aseguradoras ofrecen sus servicios para contrarrestar la inseguridad que el hombre siente a diario, "Estás protegido?" es una pregunta importante en nuestros tiempos. Las empresas ponen a nuestra disposición diferentes productos y ofertas, para alcanzar la tan preciada "seguridad".
En los tiempos antiguos el fuego era utilizado como protección contra el frio, pero también para ahuyentar los animales salvajes. En la actualidad, y para estos fines, el hombre ha creado una diversidad de armas para protegerse principalmente de los enemigos de su misma especie.
Hoy en día tenemos un gran necesidad por sentirnos protegidos. Sabemos que existen diversos enemigos, incluso los microscópicos como virus y bacterias, los cuales siembran temor, aún a pesar de las vacunas que se han creado; también es necesario proteger a los animales, el ambiente, los derechos de autor, los automóviles, los depósitos bancarios, datos informáticos y por ultimo hasta los sistemas de protección. Todo esto, necesita ser protegido.
Si el hombre es capaz de crear todas estas técnicas, maneras y objetos para protegerse y prevenir ¿crees que Dios no habrá creado algo mejor y mas excelente para cuidar de sus hijos?
Él nos dio todo para protegernos de cualquier ataque que el enemigo ponga en nuestra contra, Él dijo: "yo soy tu escudo, y tu galardón será sobremanera grande." Génesis 15:1. No solo pensó en cómo podríamos resguardarnos y no ser derribados sino también en como poder luchar contra esto.
Para mantenernos firmes, fuertes, confiados y vencedores nos ciñó los lomos con la verdad, nos puso la coraza de Justicia, nos calzó los pies con el Evangelio de la Paz, nos otorgó el yelmo de la Salvación, nos dio el escudo de la fe y para luchar puso en nuestras manos la mejor espada: Su Palabra; no existe mayor resguardo que Él que Dios nos dio para resistir cualquier, ataque, problema y tribulación.
Comienza a usarlo, protégete y ataca que Dios te prometió la victoria, eres su hijo, así que actúa como tal, deja de sentirte desprotegido y con temor, pelea la buena batalla que de la guerra se encarga Dios.
"Por tanto tomad toda la armadura de Dios, para que podáis resistir en el día malo y habiendo acabado todo estad firmes." - Efesios 6:13
Telma Céspedes
Haz clic aquí para visitar la página de CVC La Voz
Si necesitas oración o consejería, CVC La Voz tiene personas preparados para recibir ayuda. CVC La Voz Radio Cristiana provee contenido dinámico y relevante diariamente para impactar vidas. Tenemos un grupo dedicado de consejeros listo para recibir su petición de oración, comentarios o preguntas.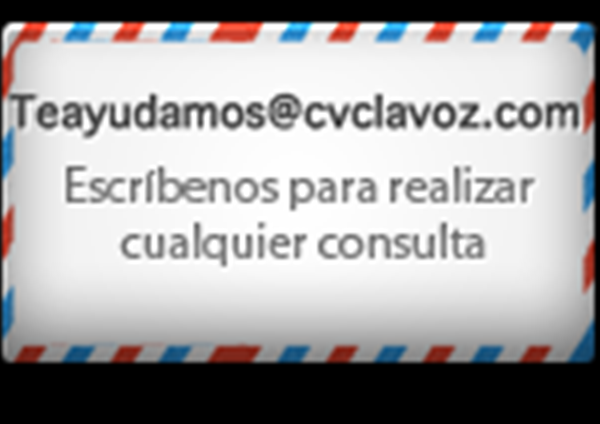 Recently on Conexión Vertical
Follow us on Facebook
Get Conexión Vertical devotionals directly to your News Feed.
Have something to say about this article? Leave your comment via Facebook below!
advertise with us
Example: "Gen 1:1" "John 3" "Moses" "trust"
Advanced Search
Listen to Your Favorite Pastors