Conexión Vertical - 28 de Febrero

Y si eso no es lo correcto?
Proverbios 16: 3 "Encomienda a Jehová tus obras, Y tus pensamientos serán afirmados".
Todos hemos sido víctimas de la indecisión, ¿Cómo saber si lo que hice, hago o deseo hacer es lo correcto? O ¿Cómo evito equivocarme y acertar un 100% en las decisiones que tomo? De acuerdo a nuestro verso en Proverbios, sencillamente necesitas poner delante de Dios tus planes y esperar por su aprobación, entonces puedes seguir adelante confiado en que lograras con éxito lo que te propusiste.
Ahora, si por el contrario obras esperando a que Dios este de acuerdo con tus decisiones que sin consultar tomaste entonces habrás confiado en tu propia prudencia (Proverbios 3:5-6), y estarás a merced de las consecuencias.
La biblia no registra un solo hombre que haya esperado por directrices de Jehová y haya fracasado, sin embargo, si cuenta algunos personajes que obraron en su afán o guiados por su corazón, ignorando la opinión de Dios o sencillamente haciendo lo opuesto a ella y lamentablemente terminaron sufriendo las secuelas de su error.
Es un grave error confundir la fe con ignorar la voluntad de Dios, Él desea que confiemos en aquellos pensamientos que Él afirmó, no en nuestro corazón que es engañoso y perverso (Jeremías 17:9).
En el libro de Jueces, capitulo 6 encontramos la historia de Gedeón, un hombre que deseaba que sus pensamientos fueran afirmados y pidió señal a Dios, con el fin de recibir confirmación en cuanto a la tarea que debía cumplir. La actitud de Dios no fue de indignación o molestia porque Gedeón se había atrevido a molestarle, al contrario registra la palabra que Dios le contestó a Gedeón no una sino dos veces, y seguramente lo hubiese hecho hasta tres o cuatro de haber sido necesario, pues Él ama hacerlo, "Te haré entender, y te enseñaré el camino en que debes andar; Sobre ti fijaré mis ojo". Salmos 32:8
La incredulidad nos aleja de los planes perfectos de Dios, pero cuando nos acercamos a Él buscando su voluntad y dirección entonces Él afirma nuestros pasos y nos asegura bendición y éxito en todo lo que hagamos.
No temas en encomendarte a Jehová, su confirmación quitará toda duda y margen de error.
Isaías 48:17 "Así ha dicho Jehová, Redentor tuyo, el Santo de Israel: Yo soy Jehová Dios tuyo, que te enseña provechosamente, que te encamina por el camino que debes seguir".
Dilean Cañas
Administradora Contenido Online
El siguiente crédito, por obligación, es requerido para su uso por otras fuentes: Este artículo fue producido por Radio Cristiana CVCLAVOZ.
Haz clic aquí para escuchar a Promesas De Dios
Haz clic aquí para ver videos de Al Punto con el Dr. Jeffrey de Leon
Haz clic aquí para visitar la página de CVC La Voz
Si necesitas oración o consejería, CVC La Voz tiene personas preparados para recibir ayuda. CVC La Voz Radio Cristiana provee contenido dinámico y relevante diariamente para impactar vidas. Tenemos un grupo dedicado de consejeros listo para recibir su petición de oración, comentarios o preguntas.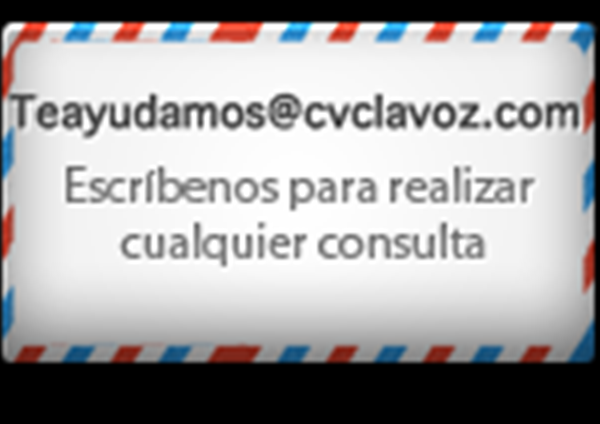 Recently on Conexión Vertical
Follow us on Facebook
Get Conexión Vertical devotionals directly to your News Feed.
Have something to say about this article? Leave your comment via Facebook below!
advertise with us
Example: "Gen 1:1" "John 3" "Moses" "trust"
Advanced Search
Listen to Your Favorite Pastors